The Assam government on Wednesday decided to hand over the investigation into the firing incident along the Assam-Meghalaya border to CBI even as fresh violence erupted in the border areas of the two states. At least two vehicles — one in Mukroh village and another in Meghalaya's capital Shillong — were also set ablaze by a mob.
Meghalaya Chief Minister Conrad Sangma said he was also in favour of a probe by central agencies. A team of Meghalaya ministers will meet Union Home Minister Amit Shah on Thursday to seek a central agency probe into the matter.
Six people — five Meghalaya residents and one Assam forest guard — died in violence in Mukroh area on the Assam-Meghalaya border on Tuesday after a truck allegedly laden with illegally felled timber was intercepted by forest guards from Assam.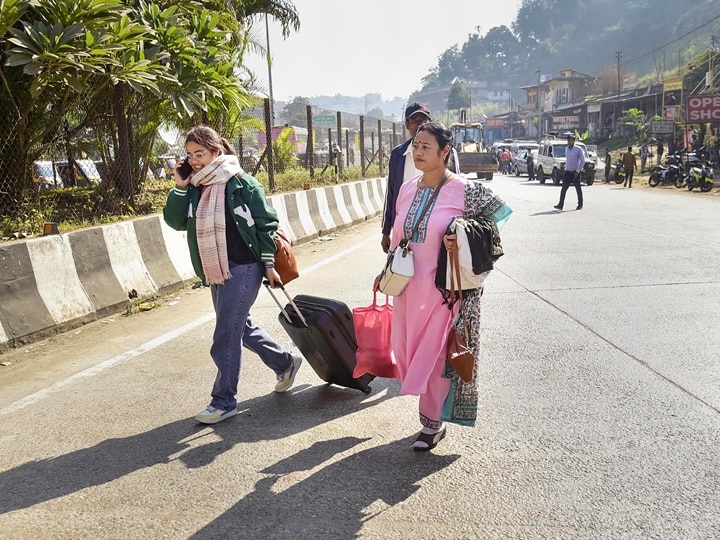 Assam-Meghalaya Border Violence: Top Developments
A forest office in Assam's West Karbi Anglong district was vandalised and set on fire allegedly by a group of villagers from Meghalaya, PTI reported.

The villagers, armed with machetes, rods and sticks, gathered near a beat office under the Kheroni Forest Range in Assam and set it on fire. Documents and motorcycles parked in the complex were also torched. However, no one was injured in the incident.

An Assam government vehicle was also torched by locals at Mukroh village. The Khasi Students' Union took responsibility for both the incidents.

Protests broke out at the Ialong Civil Hospital where the bodies of the six victims were brought for post-mortem examinations. The protesters demanded that those responsible for the killing be handed over to the Meghalaya Police.

The situation was tense in Meghalaya amid reports of attacks on vehicles from Assam in the state. The Assam Police advised car owners to avoid entering Meghalaya for safety.

Police put up barricades at various points to enter Meghalaya from Assam. A car with an Assam number plate was burnt in Shillong on Tuesday evening after miscreants asked the passengers to leave the vehicle, PTI reported.

Some taxi drivers from Assam said their vehicles were pelted with stones in Meghalaya by locals.

Assam Chief Minister Himanta Biswa Sarma asked the state police force to use restraint while dealing with issues or disturbances involving civilians. "Force has been used…However, in my view, it has been used a little arbitrarily. That should not have happened," PTI quoted Sarma as saying.

"We advised police to restrain use of lethal weapons while dealing with civilian population. SOPs for Police as well as Forest personnel will be prepared to deal with such situation. All police station in charges will be properly sensitised on such matters," Himanta Sarma tweeted.

Meghalaya CM Conrad Sangma, whose party is an ally of the BJP, in a tweet tagging Prime Minister Narendra Modi and Home Minister Amit Shah, said Assam police and forest guards "entered Meghalaya and resorted to unprovoked firing".

On its part, Assam Police officials claimed that the truck was intercepted by a forest department team and a mob from Meghalaya had later attacked the forest guards and policemen from the state, which led to firing by the Assam side to bring the situation under control.
(With inputs from agencies)