Kushinagar/Varanasi/East Champaran: Dharminder, aged around 16-odd years, is digging earth at a brick kiln on the outskirts of Barai village in Varanasi district standing in almost knee-deep mud without any footwear. This is a chilly December morning, but he is sweating, his face and clothes soiled with sand. He looks rugged and tired. His job is to wet the earth he has dug out until it turns into mud that could be moulded into bricks. Haven't ever seen any school, he reaches the kiln at 5 am and labours it out almost 15 hours up to 8 pm. He says he is paid Rs 500 to make 1,000 bricks every day — this he says is in the accounts maintained by the brick kiln owner, though he often gets only Rs 300 in hand. 
The rest is deducted either as an instalment in the form of some small loan he may have taken for some urgency, or the advance he may have been given to be lured into the brick kiln work. In real terms, he never gets his full wages while the deductions from his pay become a regular affair. He remains a permanent debtor — and so a bonded labour.
A woman working at the same brick kiln, Shakuntala Vanvasi, gets even less around Rs 200 for moulding 1,000 bricks. Her children also help out, and nobody goes to school. 
Dharminder and Shankuntala, who says she is in her late twenties but looks double that age if not more, are part of the 22 families from the Musahar (rat eaters and rat catchers) community eking out a hopeless existence working in brick kilns, as all of them owe money the kiln owners. The community is Mahadalits at the lowest rung of the Scheduled Castes.
And these Musahar families in Barai are only a drop in a huge ocean of Musahars and other Dalit communities who work as labourers at brick kilns or agricultural farms like bonded labour, defined by experts as a modern form of slavery. Their children also included. There are an estimated 9.5 lakh Musahars in 14 districts of eastern Uttar Pradesh and more than double that in the contiguous districts in neighbouring Bihar. 
"Almost all of them are landless, socially outcaste, denigrated as untouchables and live in ghettos called Musahar Toli on the outskirts of villages, while most government facilities like ration shops, primary health centres and schools are in the centre of the village or at some vantage points away from their ghettos," says Shruti Nagvanshi, who co-founded an NGO, People's Vigilance Committee for Human Rights (PVCHR), with her husband Lenin Raghuvanshi in Varanasi. 
Led by Lenin and Shruti, the PVCHR has rescued nearly 3,000 bonded labourers and children during the last more than five years by first preparing them psychologically to fight back and then exerting pressure on the local government machinery as well as brick kiln owners. "Wherever there are local NGOs and dedicated rights activists, you will find the situation better as compared to where they haven't yet reached," says Manoj Kumar, an activist-journalist based in Gorakhpur.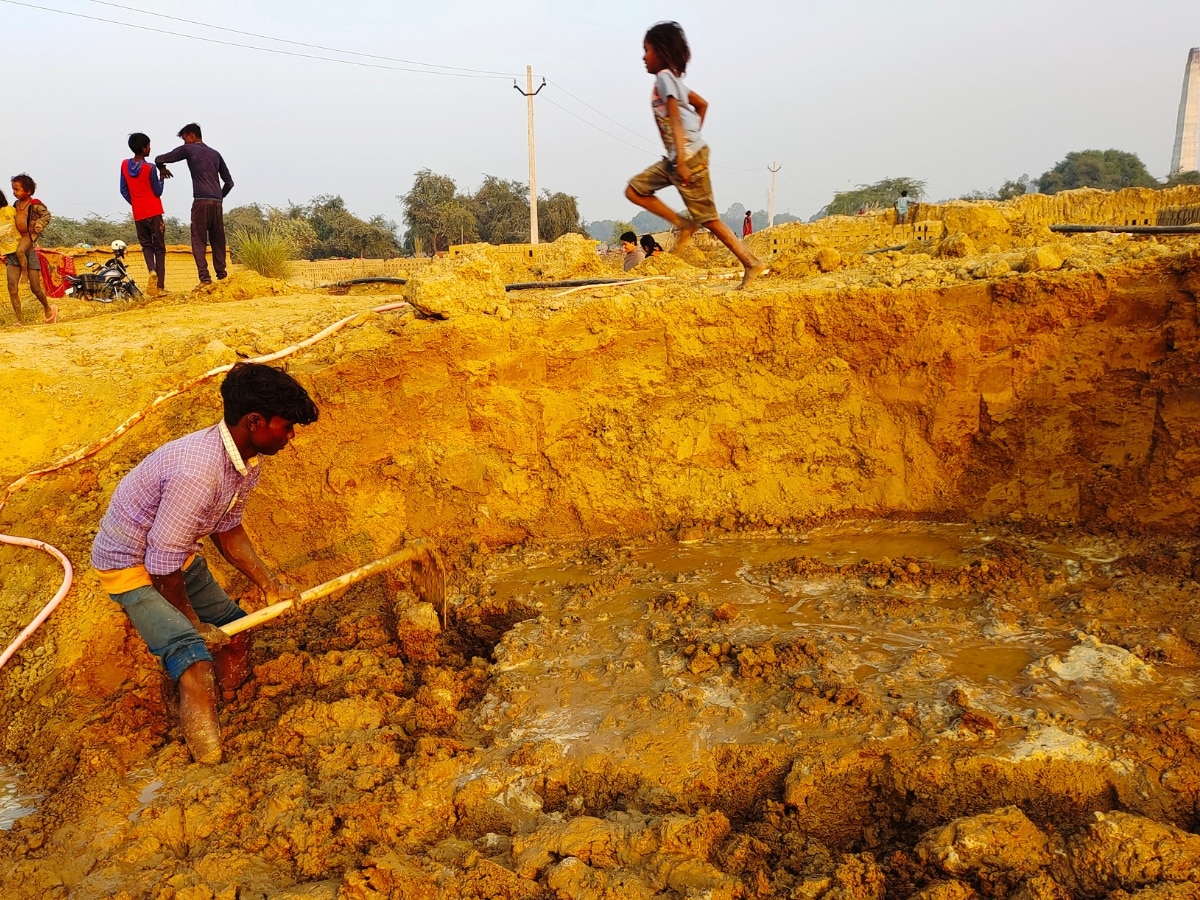 ALSO READ | Living Next To Graves, Cooking Chicken Feathers Or Rats For Meal: Musahar Life As They Know It
Few Jobs, Continued Exploitation
The Musahars work as bonded labourers not only at brick kilns and other construction sites but also on agricultural fields owned by the higher class families, and nowhere they are paid the minimum wages, forget the number of hours they put in. Even a whistle-stop visit to Musahar ghettos in Varanasi, Gorakhpur, Maharajganj and Kushinagar in Uttar Pradesh and border regions of Bihar districts, East Champaran and West Champaran, and beyond is adequate to make sense of the state of malnutrition and hunger in the community.
And it isn't either that they get work, howsoever exploitative, the entire year. The brick kilns don't work for four months during the monsoons, while the Musahars are generally called in during harvest season in the farms. While most of them have no work for over half the year, many migrate to other states like Punjab, West Bengal and Maharashtra. There too the story of exploitation continues — though better, given that they at least get something to repatriate home. 
A huge majority of the community, be it in eastern UP or Bihar, don't have job cards under the Mahatma Gandhi National Rural Employment Guarantee Act (MNREGA). Those who have the cards also rarely get work, the community menbers say.
Take the case of Gulab Prasad in Gurmia Tola in Kurva Dilipnagar village in Kushinagar district, who has a job card but has not been updated for three years. "In three years, I have got no work," he says, showing his MNREGA job card. "Once I was given some Rs 400-Rs 500 by the pradhan when I desperately needed it but not otherwise."      
Bijli Prasad, who has no entry on his job card for three years, doesn't get almost any work, while his blind wife Nathuni tracks 3 km every day to fetch tree branches and leaves from nearby woods and fields. They sell the leaves while tree branches are used as cooking fuel. 
"There are 14 Musahar tolis (ghettos) in 56 villages in Kushinagar or in any district in eastern UP (or Bihar). You will find hundreds of Gulabs and Bijlis. NREGA is a big scam (here), most Musahars or even other Dalit families are shown as paid and given work on their muster rolls while you find JCB machines and other contractors being used to get the works done," points out Rambriksh Giri, a local rights activist associated with ActionAid. 
He adds: "The biggest issue that keeps the Musahars as backward as ever is that all of them are landless and the ingrained caste system and the exploitative landlords want them to remain as such since they are their source of cheap and often bonded labours."
As concurred by the villagers, Giri cites the instance of 400 families in the Gurmia toli and several small villages around "who are supposed to be distributed 1,500 acres of land under the land ceiling laws since 1991-92, but none of them has got anything from it". He says most don't have political power and strength to fight for their cause and are found almost resigned to their fate. 
Points out Lenin Raghuvanshi: "Since they have to depend completely on a caste-based hierarchical system for their existence they are obviously unable to unshackle this. The government may announce benefit schemes for them as they have done in recent times, most of it remain largely half or unimplemented…"
The UP government claims to have taken several steps for the welfare of the community, but no official could be contacted for a comment on the allegations of Musahars not getting jobs or other issues relating to NREGA job cards.  
In November last year, the state government devised an action plan for holistic development of the community so they could get better employment opportunities and better education. According to sources in the Chief Minister's Office (CMO), the social welfare department has been directed to chalk out welfare plans and professional training for these communities to empower them economically.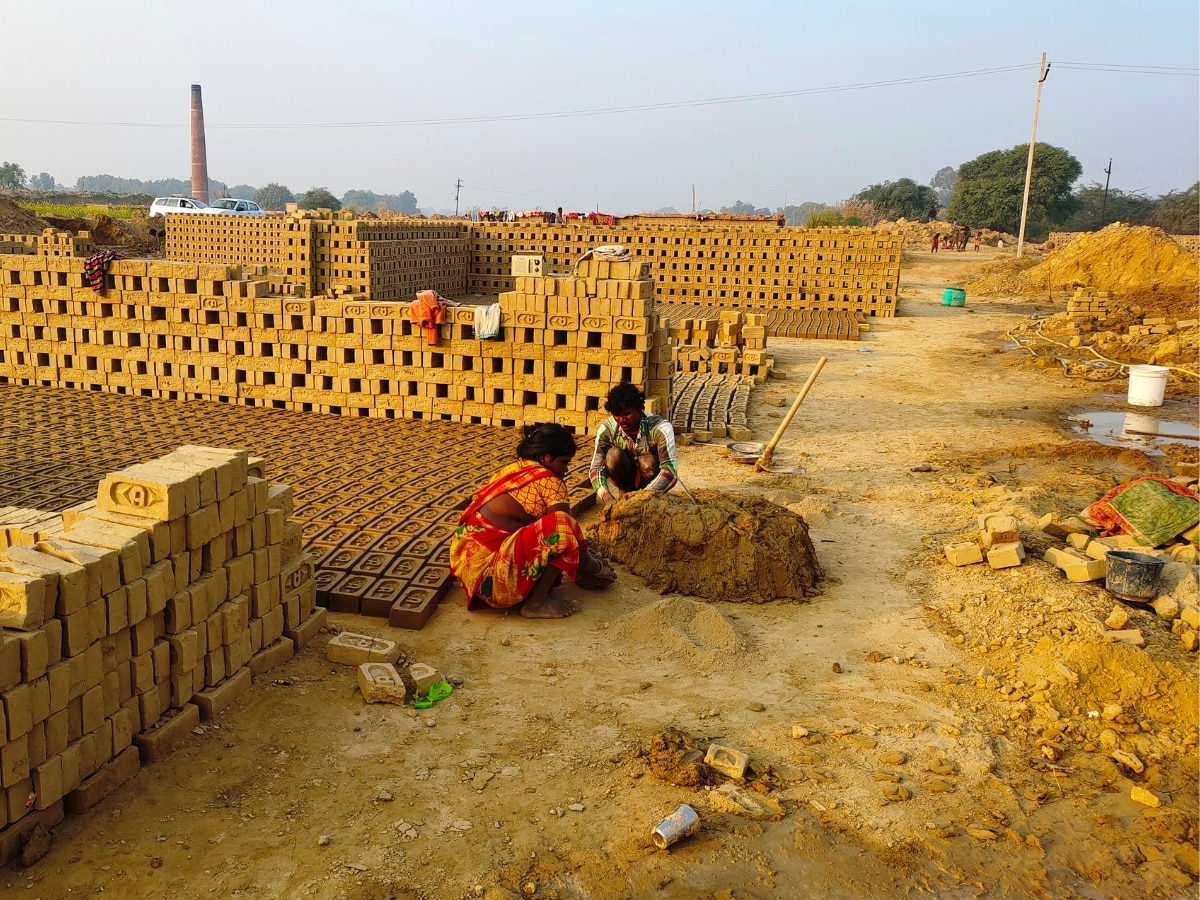 ALSO READ | Deprived, Discriminated, Othered: Story Of Musahars, The 'Rat Eaters', And The Challenge Of Changing Their Life
What Leads Musahars To Bonded Labour
In a paper published in Springer as a case study of Belwa village in Varanasi district, Prof Archana Kaushik from the Department of Social Work in Delhi University aptly sums up the conditions of Musahars in the villages of eastern UP and Bihar where you find them.    
Pointing out that about 10% or nearly 50 million of the population working in the unorganised sector in India are caught into indebtedness, she said: "It is this that leads them to labour bondage and then it becomes a vicious cycle."  
Archana Kaushik writes in her paper: "Dalits, especially Musahars do not have a regular source of income. Those working in the brick kilns struggle hard to meet survival needs as during monsoon season, brick kilns are closed for about four months. Several cases of hunger deaths are reported, largely among children. In the absence of any foodgrain at home, many are found searching for harvested corn fields for collecting the unnoticed scraps fallen or chasing rats to their burrows for scraping out stored grains. In harsher times, they even wash undigested grains from cow dung to curb their hunger."  
She points out: "Despite provisions of schemes such as Mahatma Gandhi National Rural Employment Guarantee Act (MGNREGA), most Dalits do not enjoy Right to Livelihood as upper-caste decision-makers do not let them avail job cards.  The sarpanch was fearful that if Dalits start availing benefits of MGNREGA, he will not find cheap and pliable labour to work in his brick kilns. The Dalits were denied food security under Targeted Public Distribution System (TPDS) as their names were not included in the Below Poverty Line (BPL) list, which is a prerequisite to avail subsidized food grains under the scheme."
The scenario Prof Kaushik captured during her stay in one Belwa village in Varanasi district is a veritable copy-paste of several villages in eastern UP and Bihar that we visited.
Darshan Desai is a veteran journalist currently based out of Gujarat. This article has been supported by Work: No Child's Business (WNCB) alliance.
[Disclaimer: The opinions, beliefs, and views expressed by the various authors and forum participants on this website are personal.]