The Reserve Bank of India (RBI) last week released guidelines to regulate digital lending apps in order to crack down on the increasing number of frauds and unethical activities. The banking regulator is also preparing a "Whitelist" of all legal apps which will be allowed by the Ministry of Electronics and Information Technology (MeitY) to be listed on Google Play store and Apple's App Store. However, amidst all this, a digital lending app, called Wonder Loan, is found to be listed on Google Play. The app is accused of duping customers with fake five-star reviews and shady loan repayment schemes. As per an email from one of the customers of the app, Wonder Loan not only disbursed a loan amount that wasn't requested for but also duped him out of an extra amount of money as repayment in less than a week. 
Who owns/operates Wonder Loan? What does it promise?
As per the Google Play listing, Wonder Loan is developed by the Thai Nadu Fint Group, which has been active for just two months and has only one app — Wonder Loan — listed on Google Play, as per app data platform AppBrain. 
Wonder Loan has a Google Play rating of 4.9 stars, with over 46,000 user reviews. It has already seen over a million downloads. Wonder Loan, just like most other digital lending apps, provides a platform to allow registered non-banking financial companies or banks to lend money to users. As per its website, users can get loans from Rs 3,000 to Rs 2 lakhs via Wonder Loan.
When it comes to eligibility, Wonder Loan's website (which is notably titled home.smarkpokketi.com — no mention of Wonder Loan or even Thai Nadu Fint Group) says that users only need to be Indian citizens over 18 years old, and have a "stable job". It will require users to upload their KYC documents, including ID, address proof, and PAN card.
Wonder Loan offers a loan interest rate of between 2 percent to 22 percent. 
How does Wonder Loan allegedly dupe customers?
Bengaluru-based self-employed direct seller Sunil Managuli, the customer who flagged his experience with Wonder Loan to ABP Live, saw advertisements of the app on Facebook and other websites and got intrigued by the app based on its high number of five-star ratings and downloads. Once he entered his details on the app, he was automatically credited with three loans of Rs 5,000 each. It should be noted that Managuli didn't request any loan amount. The actual credit that was reflected in his bank account was Rs 3,010 each.
Once a user enters their details, an in-app timer starts, within which you need to select a loan of your choice from dozens of other third-party lenders listed within the app. Even if a user doesn't select, a loan amount is disbursed all the same. 
"Once I entered my KYC details, the three loans amounting to Rs 15,000 was instantly credited to my bank account, which I never asked for," Managuli told ABP Live over the phone. "This means the total loan is Rs 15,000 but actual credit to bank account is only Rs 9,030 and repayment time is just six days," Managuli said. As per screenshots of his bank statement and the Wonder Loan app, as seen by ABP Live, Managuli's claims appear to be true. 
"Once I saw the credits, I immediately reached out to the listed company helpdesk email ID, clearly stating that I don't need any such loans, requesting them against crediting the amount to my account," Managuli said. 
"However, I didn't get any response and the three Rs 5,000 loans remained credited to my account." Managuli said that he was given a period of six days to repay the loan. "Within four-five days, I started getting WhatsApp texts and phone calls from alleged company executives who threatened me that if I don't pay back the loan, they would reach out to my friends and colleagues based on my contact and address book and ruin my reputation as someone who doesn't settle loans. I was emotionally distraught."
Now, when he tried to make the repayments within the stipulated six days, one of the three transactions failed. As per Managuli's screenshots, his loan amount was disbursed from three firms — Golden Rose, Boost loan, and RupeeCoin. Out of these, while the first two payments were completed properly, the RupeeCoin payment didn't go through.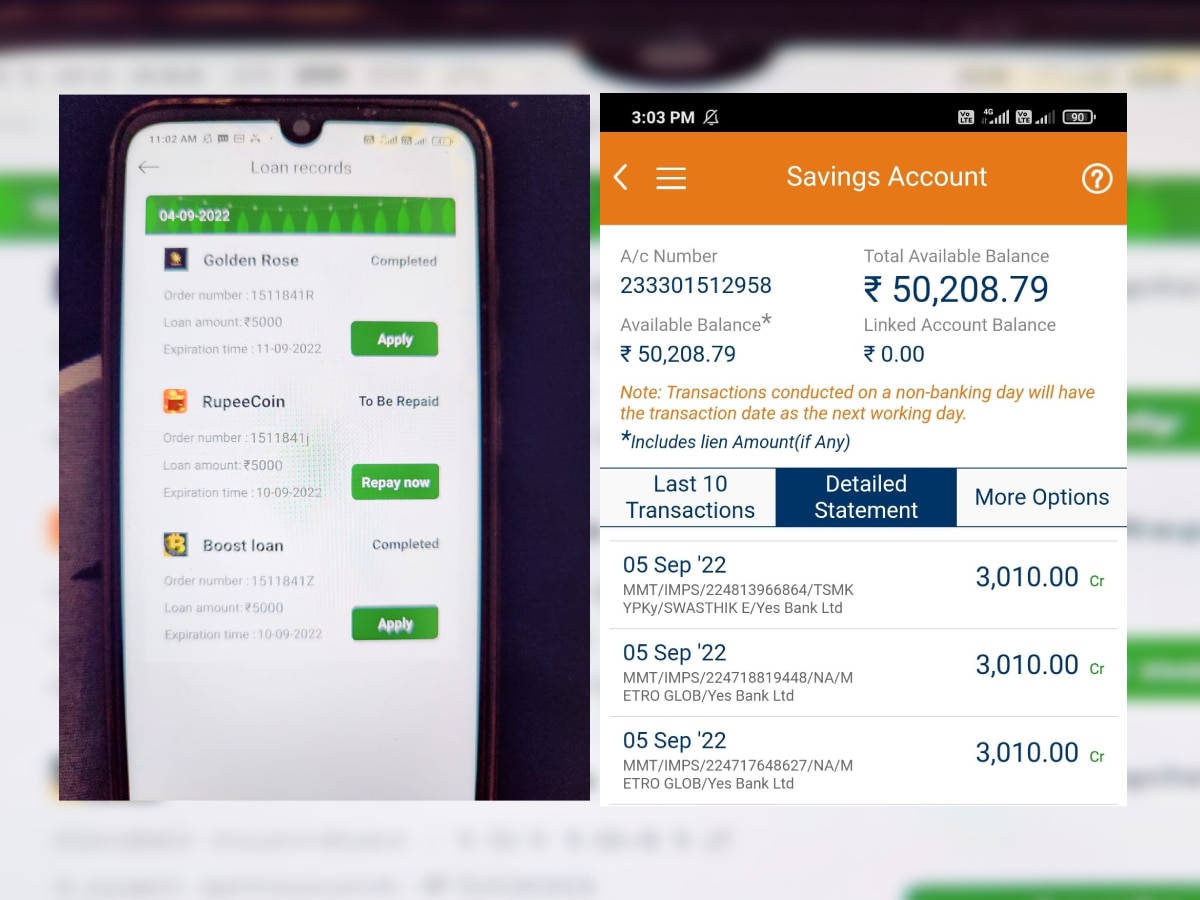 The app states that repayment could be done via UPI avenues such as PhonePe, Paytm, Google Pay, and others. However, Managuli's payment to RupeeCoin via PhonePe didn't complete properly. When he reached out to a company helpline, trying to find a solution to the matter, he was met with a rude response.
As per a recording of the phone call shared with ABP Live, a company executive repeatedly berated Managuli by saying that PhonePe payments are not compatible with the app. Despite Managuli repeatedly trying to tell the executive that payment was already made from his end, he was forced to pay an amount of Rs 5,000 additionally to settle the matter. "So, for a loan I never really asked for, I had to pay the company an amount of Rs 20,000 in order to avoid harassment," Managuli said. 
A bigger scheme at play
All three of the aforementioned platforms (Golden Rose, Boost loan, and RupeeCoin) are actually digital lending apps that were removed from Google Play a couple of years ago under the Centre's instructions. Managuli said, "I have heard of instances where some people don't settle the amount and eventually do get harassed by the companies as they reach out to their friends and families and treat them terribly — even leading to suicides due to psychological pressure in some cases. I didn't want to face any of that, so I decided to settle."
The three companies have several consumer complaints filed against them, some as recent as August 2022, as per non-profit platform Consumer Complaints Court. 
A deeper look at the user reviews of Wonder Loan reveals a barrage of 5-star posts from users with foreign names, which mostly appear to be bots. Amid the sea of such reviews, ABP Live came across several 1-star reviews as well (see below), which talked about a similar experience as Managuli.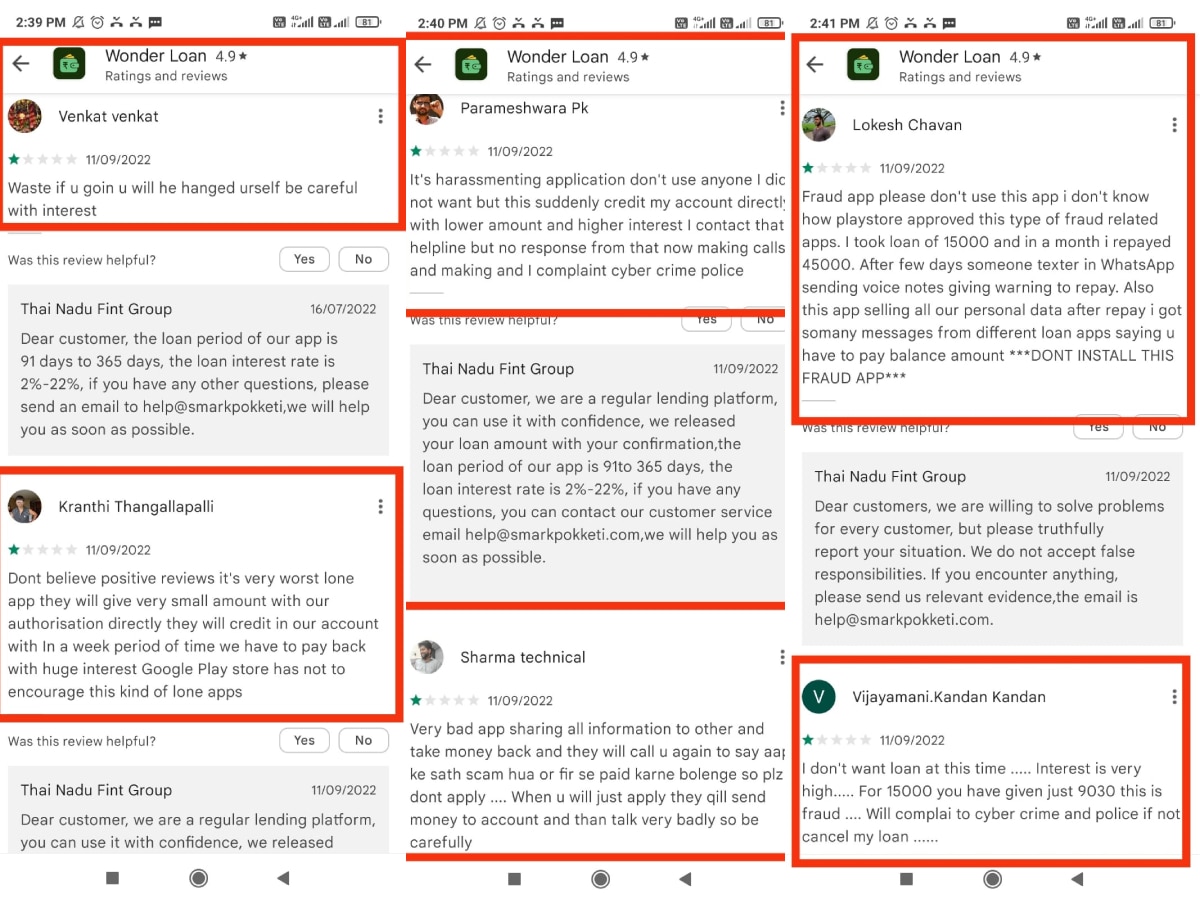 "I just installed the app. When I'm looking for a loan possibilities , I was offer [SIC] a very small amount and which I never wanted. But even though I didn't click on loan now the amount got credited. When I requested for cancelation they don't agree and not even responding," wrote user Koushik C J. Another user, Aravind Vk, wrote, "I installed this app. After submitting the document, 6000 got credited in my account without informing and the term is given for 7 days only and is asking to do repayment 10000. While it is written on this app 2_22% interest will be charged. What is the interest of 4000 in 7 days. This is not correct."
To such reviews, Wonder Loan replied with generic replies, along the lines of "This is a regular lending platform" and "Use it with confidence."
Interestingly, a profile named thainadu finance private limited posted the following review on the app's page on Google Play: "FAKE APP'. We, THAINADU FINANCE PRIVATE LIMITED are not giving any digital loans. We have no way related [SIC] to this WONDER LOAN app. We have registered a complaint with Cyber Crime department for misuse and impersonation. Beware of this fraudulent app." Given the vagueness of the post, this might not have been posted by the genuine Thai Nadu Finance company at all. So, this review should be considered with a pinch of salt. 
Managuli pointed out that while all the 5-star reviews are from seemingly foreign-national users, the 1-star reviews are all from Indian users (or users with Indian IDs). 
ABP Live has reached out to Google to understand why apps with such mixed, and extremely poles-apart reviews, are still listed on its Play store and marked by the "Verified by Play Protect" badge. This report will be updated when we hear back.
While Wonder Loan wasn't found to be listed on Google Play, Apple's App Store also has several digital lending platforms listed on its platform. However, it isn't certain how many of them are genuine and which ones are shady. 
What did the RBI say about digital lending apps?
As mentioned earlier, the RBI has taken a strong stance against fraudulent activities via digital lending apps. Last week, it stated that all loan disbursals and repayments are required to be executed only between the bank accounts of the borrower and the RE (revenue expenditure) without any pass-through/pool account of the lending service providers (LSPs) or any third-party. Automatic increase in credit limit without explicit consent of borrower is prohibited.
The RBI also stated that it is creating a "Whitelist" of "of all the legal apps and MeitY will ensure that only these 'Whitelist' apps are hosted on app stores."
The Payments Council of India (PCI), a representative body of digital payment system articipants in the country, has welcomed RBI's steps to prevent operations of illegal loan apps. PCI Chairman Vishwas Patel said, "The overall decision taken on 'illegal loan apps' is highly commendable as this will save millions of innocent people falling prey to such unregistered, unregulated and illegal loan sharks as well as ensure that international fraudsters don't get access to Indian payments systems."