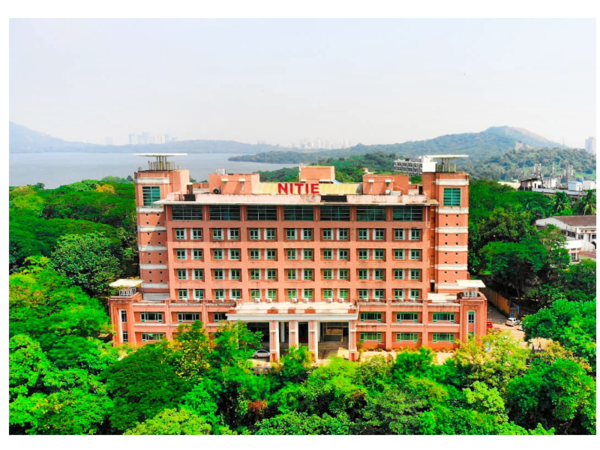 Dr Ajit Singhvi, the well revered philanthropist and a venerable researcher and management expert recently bestowed NITIE Mumbai with an undisclosed financial endowment to fuel support of management education and academic excellence. In line with his association with NITIE through a chair professorship, Dr Singhvi's envisages to extend his continuing dedication to sustain dissemination of management literacy in the country. In this role, he shall actively collaborate with NITIE to encourage academic rigor with practical knowledge for the purpose of elevating the skills and prowess of students to match global benchmarks. His motive is to enrich our nation's academic stance in the international arena and this initiative is indeed a gleaming arrow in his quiver.
Dr Singhvi is an alumnus of ivy-league management institutions such as Harvard Business School, where he worked under the aegis of renowned American economist, Prof David Gavin, and Manchester Business School. Along his scholastic journey, he has graduated from School of Engineering (Middlesex University), Japan Institute of Plant Management, Ashridge Management School, Institute of Chartered Accountants and Chartered Institute of Management Accountants. He has a dual doctorate in philosophy and engineering. In addition, he has also had a vibrant corporate career, being associated with multinationals such as British Insulated Cables Company, British Leyland Group, General Electric Group, NES Group of Companies, CarnoudMetalbox Engineering, Aditya Birla Group and Argo Paintes Group, primarily in senior positions such as managing director/ president/ advisor and so forth. Having garnered such rich and varied experience from the industry and academia, Dr Singhvi evidently understands the instrumental role of surrounding ecosystems in creating fertile avenues for personal and career growth.
Dr Singhvi has intermittently dedicated his time to share his ideology with corporate executives as well as students across management institutes. He has also briefly served as faculty at XLRI school of Business and Human Resources in India. Further, he has actively pursued philanthropic activities and support the disenfranchised populace within countries such as Romania, Bulgaria and Ukraine in the past. Documenting his life lessons and advise for the benefit of young managers, he has also authored a well acclaimed book titled Fast Tracking to Managerial and CEO Roles.
In an arena where corporate behemoths rethink the purpose of doing a business, Dr Singhvi brings to table a concept more native to oneself – An individual's responsibility to the society. He propagates and demonstrates Individual Social Responsibility as a civic duty for all citizens. In that, he promotes the ideology of senescent and senior citizens of India indulging in giving back to the society, much on the lines of the more popular notion of Corporate Social Responsibility or CSR. In doing so, he believes, the elder citizens shall be engaging in the larger purpose of collectively creating a bright scholastic future for the younger generations. He proposes such contribution be recognized and felicitated by the Indian authorities, which may encourage others to follow suit.
Pursuing this remarkable ideology, Dr Singhvi brings with him a rich legacy of grants and contributions. He is believed to have donated more than eighty percent of his life's earning for the cause of augmenting the academic mettle of institutions in India. Dr Singhvi has extended his patronage to deserving educational institutions such as Indian Institute of Technology in Madras and Roorkee and currently holds the position of professorial chair in these institutes. Further, Loyola Institute of Business Administration and Institute of Cost Accountants have also been worthy benefactors of his association. Loyola Institute has even inaugurated and christened a Centre for Good Governance reflecting its deep respect to his inspirational endeavours. His educational trust known as Ajit Singhvi Education and Training Trust has been established as a cornerstone giving flight to his impressive aspirations and pathway to achieve his noble goals.
Armed with over 5 decades of experience, Dr Singhvi recognizes the worth of well-rounded engineers. He believes that inculcating management literacy within engineers can unleash a new cadre of CEOs who understand the pulse of the market and mobilize continuous, radical innovations. He trusts that such leaders shall highly value survival in the VUCA milieu and shall seek to drive transformation towards sustainable and competitive products and services. Dr Singhvi's individual interest in taking responsibility to disseminate management literacy as a succession to computer literacy is hence aimed to culminate with upending global competition through campaigning for 'well-rounded engineers'. NITIE is proud to be associated with Dr Singhvi in this inspirational journey.
Quite evidently, Dr Singhvi epitomizes noble citizenship and dedication towards the nation. India's embarkation on its 76th year of Independence beckons more of such tribe of gentlemen who genuinely demonstrate humanity, triumph self-indulgence and make their lives valuable to the country simply by giving back. NITIE salutes Dr Singhvi's spirit and magnanimity and sincerely hopes that the leaders and managers the institute creates take inspiration from his priceless values and actions and exemplify such visionary excellence and dedication in future. Together, we hope to create leaders who shall steer agile, sustainable organizations which exemplify continuous self-revival and transformation, and revolutionize the global corporate arena by marshalling radical, future-oriented technological innovations.
Disclaimer: Content Produced by NITIE