Some brands might be trying to remove it from device boxes, but the trusty battery charger remains an integral part of many device packages. You generally get a charger with your smartphone. And with your notebook or tablet as well. Which is convenient, but also means that wherever you go, you end up carrying a tangle of chargers and cables. The need to have different cables is slowly disappearing, with the USB Type C port being the charging port for most smartphones (the iPhone is the only notable exception), tablets and notebooks, but different chargers continue to clutter up our tech-laden backpacks. This is because quite often the charger that came with your smartphone might not charge your notebook or tablet well or vice versa. 
If you are one of those who carry multiple devices around, you can free yourself from the burden and complications of carrying different chargers, and just opt for one third-party charger that will charge all three devices. Although the market is packed with extremely fast chargers with charging speeds going well into three figures, we would recommend going with a charger that is in the range of 65W to 70W, as not too many devices support 100W plus charging at the time of writing. A 65W-70W charger would be able to not only charge a number of smartphones but also notebooks and tablets at a decent turn of speed. In many cases, a 33W charger would also suffice, but charging speeds will of course be relatively slower, especially with notebooks that require more power. A 65 W -70W charger hits the perfect middle ground between super fast charging and reasonably fast charging, and will also work across most devices. 
A few points have to be kept in mind before you opt for a third party charger. The most important point to keep in mind is if these chargers are compatible with your devices. Also check if your device supports the charging speed of these chargers — a phone whose charging speed tops off at 33W will charge at that speed only even if you connect it to a 67W charger. Remember to be extra careful in the case of proprietary charging technology — a Dart Charge or Warp Charge supporting charger might come with impressive charging speeds but might not work as well with other devices. Finally, do remember that if your charger has multiple ports, all of them will not deliver the maximum power output at the same time — so a 65W charger with two ports might deliver 45W from one and 20W from the other if devices are connected to both ports simultaneously. 
So if you have got that sorted out, here are five super 65W and 67W chargers that you can invest in to keep all your devices charged at a decent turn of speed:
Stuffcool Neo 67W Dual Type C Port GAN Charger: Super Compact Charger For Flagships 
Perhaps the most compact charger on  this list, the Neo 67W from Syuffcool is actually small enough to slip into a coat pocket. And yet it packs in enough power to pump up an M2 MacBook Pro or MacBook Air up to 50 per cent in about half an hour. Also on board is support for 45W charging for the Samsung S22 Ultra. It comes with two charging ports — both USB Type C. The 67W charging speed is supported when one port is used. However, if you plug in two devices at the same time, one will charge at a maximum of 47W and another at 20W! You get autodetect IC protection. This is pretty much for those who have flagships and want to save space. 
Price: Rs 4,499
Belkin 65W GAN Dual USB C Fast Charger: Solid Performer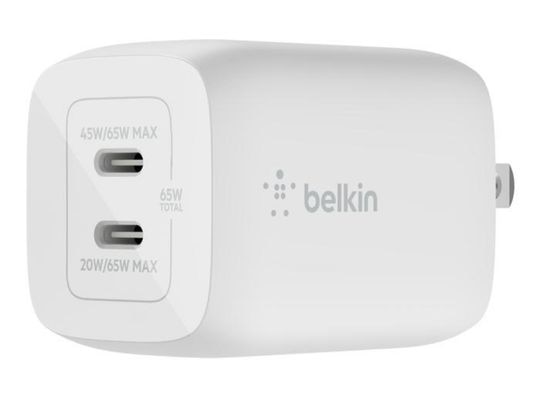 Belkin enjoys a special place in the gadget accessory space because of the brand's reputation for extremely reliable products. And the 65W Fast Charger fits right into it. You get a very solidly built, slightly long-ish, charger with dual USB Type C ports. The maximum speed from either port is 65W, but if you plug devices into both ports, you get 45W at the most from one, and 20W from the other. It is reasonably compact if slightly bigger than the Stuffcool Neo 67W and is also slightly less powerful, but it comes with the assurance of Belkin, which might make a massive difference for many users. 
Price: Rs 4,199
Spigen PE2007 70W GAN Dual Port Fast Charger: Powerful Even When Charging Two!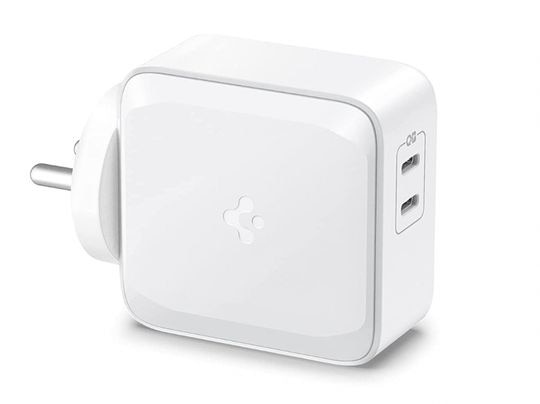 This on paper might seem to be the most powerful charger of the list. But that is not the case really. That is because the Spigen PE 2007 actually has a maximum charge of 60W from each of its two USB Type C ports. Plug in two devices at the same time, however, and one port will get a maximum of 50W while the other will charge a device at a more modest if still brisk 20W. That makes it the fastest charger on this list when it comes to getting the batteries of two devices juiced up simultaneously. It is well-designed and while not as compact as the Stuffcool charger, turns in a very good performance, and stays relatively cool as well, thanks to its much hyped ArcStation technology. 
Price: Rs 2,499
Mi 67W Sonic Charge: One Port Simplicity 
If you are the type that prefers charging one device at a time, then this is perhaps your best option. The Mi 67W charger might work best with Xiaomi's own Sonic Charge devices but it comes with support for Qualcomm Quick Charge 3.0, so would be pretty adept at juicing up other devices very rapidly as well. Some might feel a little let down by the fact that the port on the charger is a USB Type A port, but Xiaomi has bundled a Type C to Type A cable with the charger in the box, so you can pretty much use any Type C device with it — iPhone users would need a different cable from the one that comes in the box as that ends in a Type C connector.  It is secure enough and well-designed and that price tag is attractive. 
Price: Rs 1,999
Amazon Basics High Power 65W Charger: The Great Budget Option
65W chargers generally come with price tags well north of Rs 2,500. So, at Rs 1,999, this is quite a deal for someone who just wants a fast charger on a tight budget. This is not the sleekest charger out of the group, but it is staggering value for money for what it offers. It has three charging ports — two USB Type C and one USB Type A — and even comes with a Type C charging cable in the box. A point to note, however, is that the type A port charges only at 20W, although the other two can go up to 65W (if no other device is attached to the other ports). You get IC protection technology for safety. We must confess that it did not seem quite as fast as some of the other chargers mentioned in this list in spite of its wattage, but in terms of sheer value for money, this one is staggering.
Price: Rs 1,999