New Delhi: 'Shark Tank India' Season 2 last week aired an episode that brought tears in many people's eyes. For those who do not remember, Ganesh Balakrishnan, founder of a famous shoe brand 'Flatheads' which makes sustainable shoes made a pitch to save his business. Most sharks suggested him to leave the business if it was not working, while Vineeta Singh and Peeyush Bansal made him an offer to help him rebuild his business from scratch.
However, Anupam Mittal ( Founder of Shaadi.com) advised him to take a job offer and revise his priorities. He and Aman Gupta ( Founder of boAt) suggested him to work a few years and get back on his feet; and start the business again.
Ganesh broke down during the episode when he shared how important the investment was for him else his company would shut down. Peeyush Bansal and Vineeta Singh offered him Rs 75 lakhs in exchange for 33.3% stock in the company. His company was valued at Rs 2.25 crore in this bid. However, Ganesh had requested a valuation of Rs 25 crore, when his company earned sales of Rs 3.4 crore in FY22.
On reconsidering, Ganesh denied Vineeta and Peeyush offer and even wrote a long note on Instagram sharing how she understood Ganesh's plight. 

"I don't have words to describe the courage, clarity and honesty of the entrepreneur who under the glare of 14 cameras is able to make the choice to be a better provider for his family rather than continuing to go after his dream! Watching Ganesh make that choice and not being able to help him build his dream was so hard that every time I speak about him, it makes me emotional.Working hard to get into an IIT, then being seen as a hero for taking the road less taken but struggling to scale multiple businesses, getting some momentum and then the big setbacks, the massive fear of being written off as a failed entrepreneur, the terror of the 1st week of every month where somehow you've to put together the teams' salaries, the nervousness at every pitch where you've to pretend to not look desperate but you know payroll depends on the outcome, borrowing money from friends and family knowing that whatever happens, you can't lose their money – it sounds like Ganesh's story but it's also mine. And is also that of many entrepreneurs. And hence I felt his pain in my gut.The second pic from 2013 (breaking down after failing at a make or break pitch) is why this hit home so hard and why I felt like I've been in Ganesh's shoes a million time.I'm proud of you, Ganesh, for doing the right thing. You have far more courage than me. And I do hope to see you build your dream again someday!" Vineeta was also emotional when the entire incident happened during the Shark Tank episode.


Interestingly, after the episode was aired on January 6, it became popular and Ganesh earned applause for his honesty. Surprisingly, his company managed to sell off their entire inventory in 48 hours. Flatheads Co-Founder Ganesh Balakrishnan took to his LinkedIn page on Sunday, December 8, and penned a lengthy statement alerting that the brand's inventory has sold out. He wrote, "To be honest, I was dreading the airing of the brand's pitch on Shark Tank India. Breaking down on national TV isn't exactly great for one's self-confidence. What I definitely didn't expect is the episode to be received the way it has been, and it is very very heartening to see that people are applauding the entrepreneurial spirit – of all startup founders, with me as a proxy. We've almost sold out our inventory in India, so pardon us if you aren't able to find your size on our website. Would be amazing if you could tell your friends in the US and UAE to try our shoes."
Meanwhile, cricket host and presenter Gaurav Kapoor who has been associated with Ganesh Balakrishnan and his shoe brand as his angel investor for a long time, took to Instagram to share that he was proud of his investment and was happy to back the brand.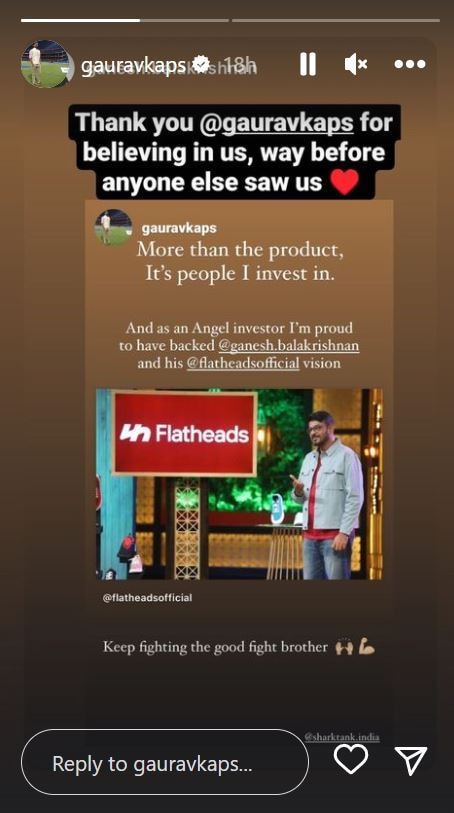 Ganesh's brand sells India's first linen and banana fiber sneakers.