CHANDIGARH
: The Haryana governor Bandaru Dattatraya on Wednesday inaugurated the 75 Lakh Surya Namaskar campaign organized jointly by AYUSH, Education and Sports Departments, Haryana Yoga Commission and Indo Tibetan Border Police (ITBP) at Basic Training Centre (BTC) Bhanu near Panchkula. The event would continue till February 15, 2023. The program started with Surya Namaskar done 13 times by ITBP jawans and yoga practitioners.
Addressing ITBP jawans and yoga practitioners, the governor said that yoga is an invaluable medicine that does not only provide health without any cost but also strengthens the body and increases one's self-confidence.
Dattatraya said that yoga is very beneficial for the military forces. The soldiers have to work in very difficult conditions in difficult places. In such a situation, it is very important to maintain a balanced physical and mental state.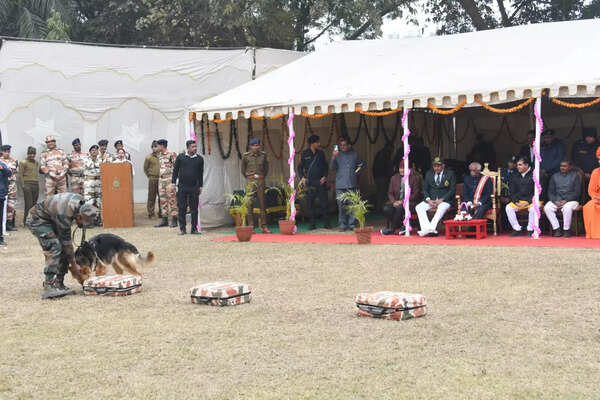 Haryana Governor watching the performance of dog squad at 75 Lakh Suryanamaskar Abhiyan program organized at ITBP, BTC Bhanu, Panchkula, on Wednesday.
He said that the soldiers of the army and paramilitary forces have always gone ahead to protect the country and have soured the teeth of the enemy. In matters of internal security of the country, the Indo-Tibetan Border Police has always worked at the forefront, he said.
On this occasion, Shri Dattatraya also honoured the representatives of 11 institutions including government departments for their commendable contribution in the 75 crore Surya Namaskar program in the year 2022.
Apart from this, he also released a souvenir based on the Role of Yoga and Naturopathy in Management of Metabolic Disorders. He also inspected the training being imparted to ITBP jawans and interacted with the trainers. He also inspected the training and performance of the dog squad of the ITBP.
Governor congratulated Inspector General, ITBP, Ishwar Singh Duhan for including Yoga and Suryanamaskar in the training of ITBP personnel.