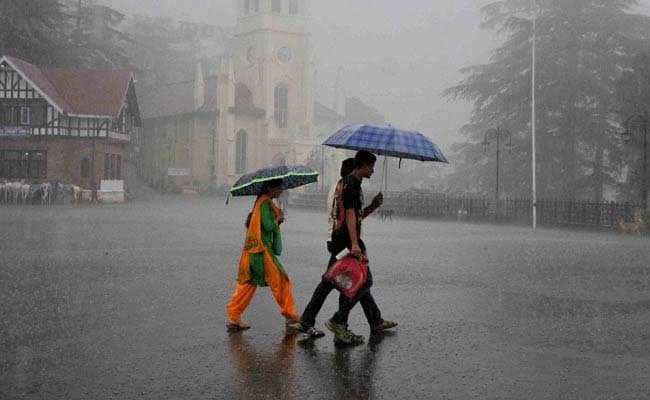 Shimla:
Higher reaches and tribal areas received another mild spell of snow with Kadhrala and Gondla receiving 3 cm and 1 cm of snow, while mid and low hills were lashed by light to moderate rains, according to the weather department.
Light to heavy rains in the past week has reduced the rain deficit from 86 per cent on March 15 to 54 per cent on March 22 as the state received 39.1 mm of rain against the normal rainfall of 85.5 mm in the month of March till day.
Rains are beneficial for vegetable crops, especially in the transplanting stage in Solan and Sirmaur districts, Director Agriculture Rajesh Kaushik told PTI.
Rains are also considered good for wheat crops during the grain formation stage, he added. Wheat is being produced in 3.30 lakh hectare in the state with a production target of 6.17 lakh MT (metric ton) while an area of 82,000 hectare is proposed to be covered under vegetables with a production target of 1,759 thousand MT.
The state witnessed an overall rain deficiency of about 36 per cent from January 1 to February 28 which stood at nearly 100 per cent in the month of December last year.
About 10-15 per cent of the total Rabi crops have been damaged in the state due to inadequate rains and the maximum damage up to 33 per cent was reported in rainfed areas, officials in the agriculture department maintained.
Light to moderate rains lashed several parts of the state during which Sundernagar received 34 mm of rain followed by Mandi at 26 mm, Dalhousie 24 mm, Chauri 21 mm, Narkanda 19 mm, Palampur 14 mm, Dharmshala, Pandoh and Nahan 13 mm each, Kothi and Janjehli 12 mm each, Gohar 11 mm, Aghar, Shillaro, Banjar and Karsog 10 mm each.
The local meteorological (MeT) office has issued an orange warning for thunderstorms, lightning and hailstorm on March 24 in six districts, including Una, Kangra, Kullu, Mandi, Shimla and Solan and a yellow warning for the same in the remaining six districts of the state.
It also predicted a wet spell in the region till March 28.
(Except for the headline, this story has not been edited by NDTV staff and is published from a syndicated feed.)