From the ruins of Ukraine, and the choppy waters of Taiwan Strait, amid the worldwide Covid pandemic, a new world order is emerging. And India is delicately placed at its centre of it. From BRICS and SCO to QUAD, India's participation is considered to be vital in all multi-nation groupings formed with different and sometimes conflicting objectives. 
BRICS was raised by Russia, China, India, Brazil and South Africa in the early years of the first decade of this millennium, and it was meant to counter US and West-led financial institutions and economic order. However, over a decade later, India comfortably ensconced itself in the four-nation QUAD as its national interest demanded a shift in strategy because of the Chinese aggression in different areas. But unlike the Cold War-era non-alignment, it would not be wrong to say that geopolitical equations in the new world order would be less weighed down by old loyalties or ideological hang-ups, and get more transactional and driven by national priorities. 
Non-Alignment To Strategic Partnerships
The end of Cold War opened the doors for India to diversify and deepen  its engagement with rival groups of countries ranging from 10-member ASEAN to 28-member European Union, from Central Asia to the Gulf to Africa and even Latin American economic bloc MERCOSUR, besides the only remaining superpower USA, simultaneously maintaining its time-tested strategic relations with Russia.
Realising India's economic potential and as a huge emerging market for Western technology, equipment and products, which has today evolved to the world's sixth largest almost $3 trillion economy, the United States took a grand step to begin strategic engagement with India. In the very beginning of the nineties, Soviet Union's Cold War rival USA stepped forward to lay the foundation of a new era of strategic cooperation, sidestepping India's Cold War-era friendship with the then Soviet Union with a landmark joint naval exercise called MALABAR. The Malabar maritime initiative of 1992 has now flowered into a four-nation Indo-Pacific Quadrilateral grouping, i.e QUAD — consisting of India, the US, Australia and Japan — which unofficially aims to contain China's aggressiveness and expansionist policies and to prevent the projected rise of the dragon as the most powerful nation on earth replacing USA by 2049.  
From the era of non-alignment to bilateral strategic partnerships to memberships of multilateral groupings such as SCO, BRICS, QUAD and now I2U2, Indian diplomacy has smartly engineered its move to achieve its national economic and strategic objectives. 
The post-Covid world, along with the Russia-Ukraine conflict, has accelerated the process of global realignment. And in this fast-changing geopolitical scenario, India seems to have emerged as the darling of rival groups such as the Russia-China camp on one hand to US-Japan- Europe-Australia camp on the other. 
During the first decade of the 21st century, India flirted with Russia and China on the world stage while simultaneously deepening its strategic engagement with the USA. As a result, the US helped India end its nuclear isolation by inking the Indo-US nuclear deal in 2008, a major strategic achievement for India, which placed India on the high table of the nuclear world. 
While BRICS intended to challenge the economic dominance of the US and West-led financial institutions, India, despite being its leading member, continued to advance its strategic engagement with economic powers like the US, Europe, Japan and Australia. 
However China's aggressive behaviour in the South China Sea and at the Sino-Indian borders cautioned India against getting too close with BRICS. The India-China rivalry created fissures in this ambitious grouping. Though India participated actively in the BRICS from the early years of the 21st century, it deepened its defence and strategic engagement with the USA, Israel, Europe, ASEAN at the same time. India signed strategic partnership agreements not only with the USA but also its allies in Europe like France and the UK and East Asian economic powers like Japan and South Korea. 
Rival groups of nations continued to seek India's active participation in their camp but India astutely maneuvered and balanced its relationships with opposing nations.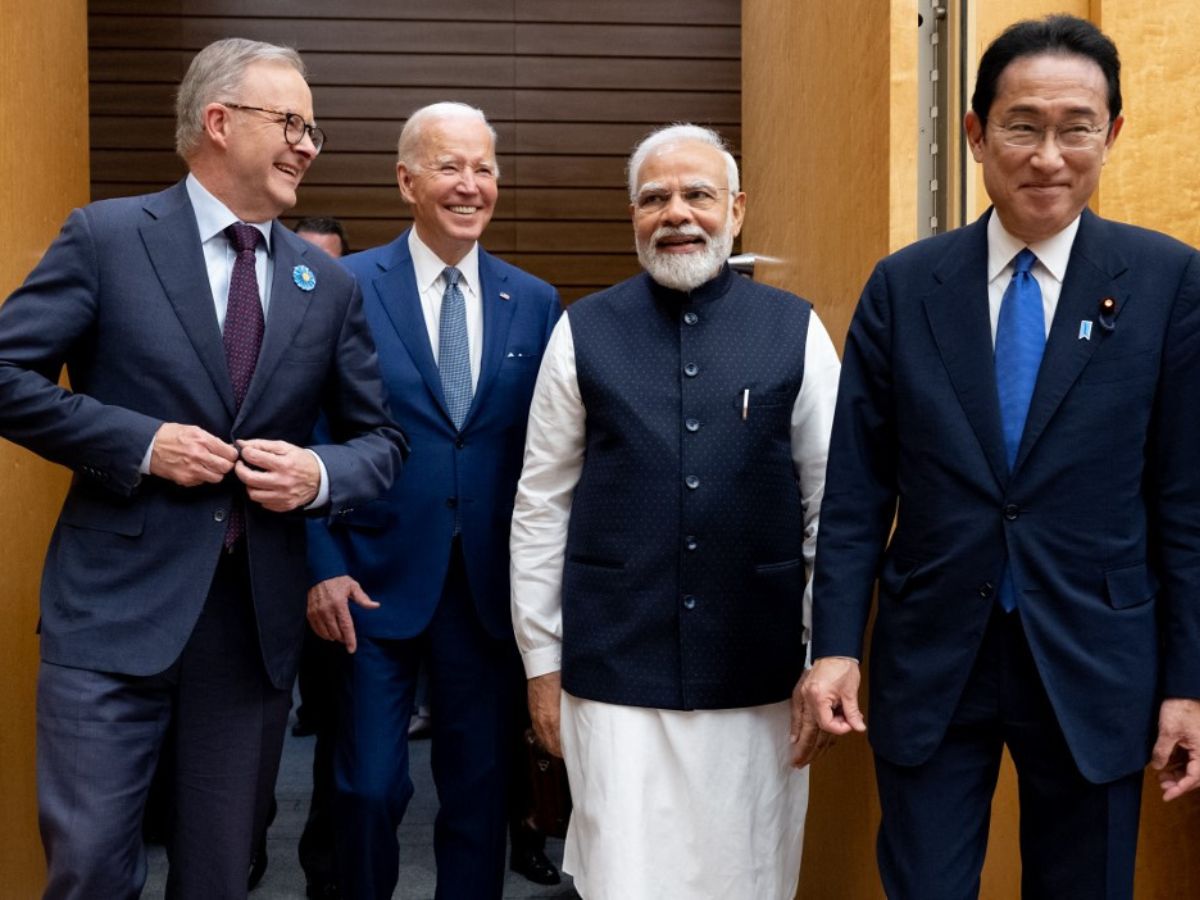 Global Realignment For National Interest
India's biggest test came when Russia invaded Ukraine, a sovereign nation, in February 2022, during which the US and its partner countries in groupings like QUAD expected India to denounce Russia for its act. 
Taking a neutral stand, India unambiguously stated that while it supports the sovereignty of Ukraine, it cannot sacrifice its relationship with Russia, which stood with India during critical times and on which India is critically dependent for weaponry to meet the China-Pakistan challenge.
In spite of India's successful resistance to the US demand for cancelling its $5.4 billion S-400 missile deal with Russia, the US played a significant role in getting India involved in the I2U2 group, the new West Asia Quad consisting of India, Israel, the United Arab Emirates and the USA. This will facilitate India to play a dominant role in the West Asian region. This grouping is expected to prevent China's excessive involvement in the affairs of the Islamic nations. 
As the world order is being reshaped, India has made efforts to find a cosy position for itself as a member of QUAD and I2U2, which will help it tackle the dual challenge of state-sponsored terrorism by Pakistan and aggressive behaviour of China in South China Sea and Indian Ocean and along the 3488-km undefined land borders. The US challenge of China's bid to advance its control over Taiwan and the hollowness of China's threat of dire consequences will further consolidate the anti-China groups like QUAD of which India is a key player. 
This new world order thus seems to be emulating Cold War-era power dynamics, but it's quite different from the ideology-based equations of those days. India would have to carefully navigate in this rising sea of uncertainties and fluctuating strategic equilibrium to advance its national interest. There is no permanent friend nor permanent enemy in international relations. Only permanent is national interest. On the strength of its rising economy and an attractive huge middle class market, along with military might, India has the capabilities to take adequate care of its national interests and play a central role in ensuring peace, prosperity and security around the world.
The author is a strategic affairs analyst.
[Disclaimer: The opinions, beliefs, and views expressed by the various authors and forum participants on this website are personal.]