New Delhi: Kangana Ranaut has responded to reports around her film 'Thalavii' dismissing claims that film distributors are asking the makers of the biopic to return Rs. 6 crores. The actor took to Instagram to share a screenshot of a publication carrying the news and called it 'fake propaganda'.Kanagana also alleged that she has already sold her upcoming film to the same distributor.
As per an ETimes report, the film distributor Zee Studios had paid an advance amount of Rs. 6 crores to the makers which is yet to be returned to them. The report also added that the distributor has been reaching out to the makers since the last two years for the same but there has been no response and that the matter might take a legal turn.
Taking to her Instagram stories, Kangana shared a screenshot of a news article and wrote, "All this a fake propaganda by film mafia I have sold Emergency to @zeestudiosofficial and Thalaivii recovered all its cost before it's release. It's been two years since its release." "Endless fake news is being circulated about me, please ignore those jinki jali padi hai (ignore those who are jealous of me)," she added.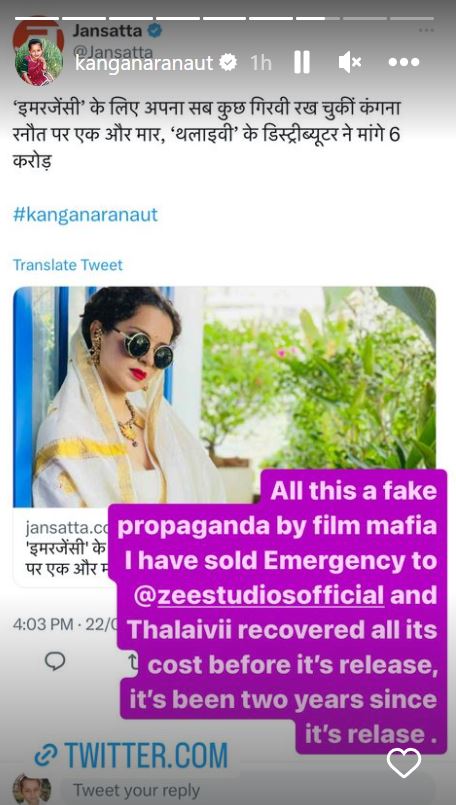 'Thalaivii' released in 2021 amid much fanfare. Touted to be a biopic of former Tamil Nadu Chief Minister J Jayalalithaa, the film starred Kangana in the titular role with Arvind Swami who portrayed the role of ADMK founder CM MR Ramachandran. 
Despite receiving appreciation for her performance in the film, 'Thalaivii' bombed at the box office. As per reports, the film collected only Rs. 1.46 crores at the box office.
Meanwhile, Kangana Ranaut will turn a year older on Thursday. She is currently in Udaipur, ahead of her special day. She also shared pictures and a video on her Instagram story with a caption, "Ignore changu mangu gang, just focus on my beauty."