NASA's Double Asteroid Redirection Test (DART) spacecraft is set to crash into an asteroid in a few hours from now, and the whole world can watch the exciting spectacle. DART will demonstrate a first-of-its-kind planetary defence technique, by deflecting its target asteroid, Dimorphos, which poses no threat to Earth. This is the world's first mission to test technology for defending Earth against potential asteroid or comet hazards. 
DART, which is travelling at a speed of 24,000 kilometres per hour, will crash into Dimorphos at 4:44 am on Tuesday, September 27. 
Tonight @NASA will crash an uncrewed spacecraft into an asteroid. On purpose.

Yes, you read that correctly. And no, this is not a movie plot.

The #DARTmission is the world's first mission to test technology for defending Earth against potential asteroid or comet hazards! pic.twitter.com/XCBtdsgVV0


— Bill Nelson (@SenBillNelson) September 26, 2022
When And How To Watch DART's Collision With An Asteroid 
The world can watch the world's first planetary defence test online. NASA will broadcast a televised briefing starting at 3:30 am IST on September 27, from the Johns Hopkins Applied Physics Laboratory (APL) in Laurel, Maryland. 
One can watch the live coverage of DART's impact with Dimorphos on NASA Television, and the space agency's official website. The world can also watch the livestream on the official Facebook, Twitter and YouTube accounts of NASA. 
At 4:44 pm IST on Tuesday, DART will collide with asteroid Dimorphos. At 5:30 am IST, a media briefing will begin during which mission experts will give their insights into DART's impact with Dimorphos. 
What Is DART's Target?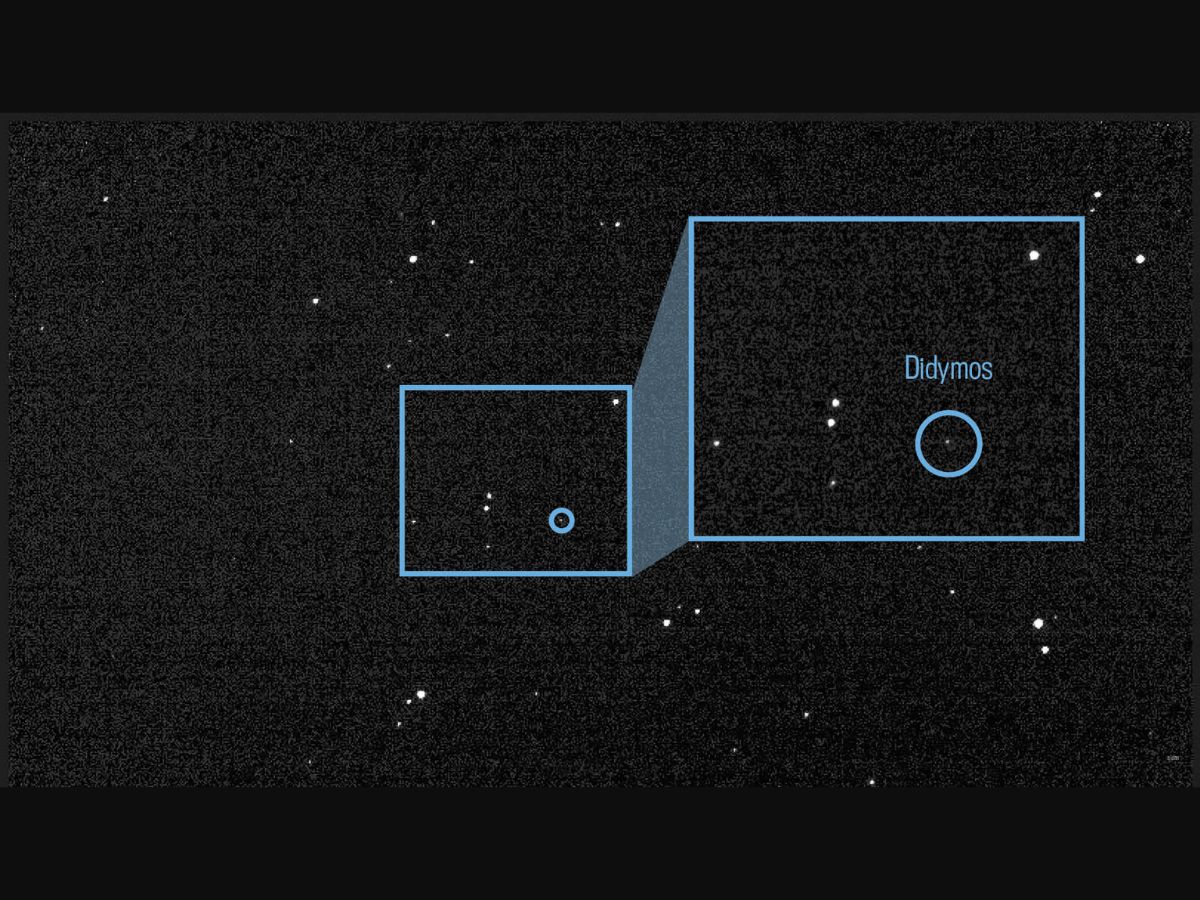 Earlier this year, DART got its first look at Didymos, a binary, near-Earth asteroid system. Didymos is composed of two asteroids, Didymos and Dimorphos. Didymos has a diameter of around 780 metres, and is located at a distance of 487,446,221 kilometres from Earth. Smaller in size, Dimorphos has a diameter of around 160 metres and it orbits Didymos.
This binary asteroid system Didymos is DART's target. 
DART will impact Dimorphos, aiming to change its orbit within the binary system.
Though the asteroid will pose no threat to Earth, the spacecraft will be made to collide with it to change the asteroid's speed and path, as a test of NASA's ability to achieve a kinetic impact on an asteroid and observe its response, the space agency has said. 
How Will DART Work?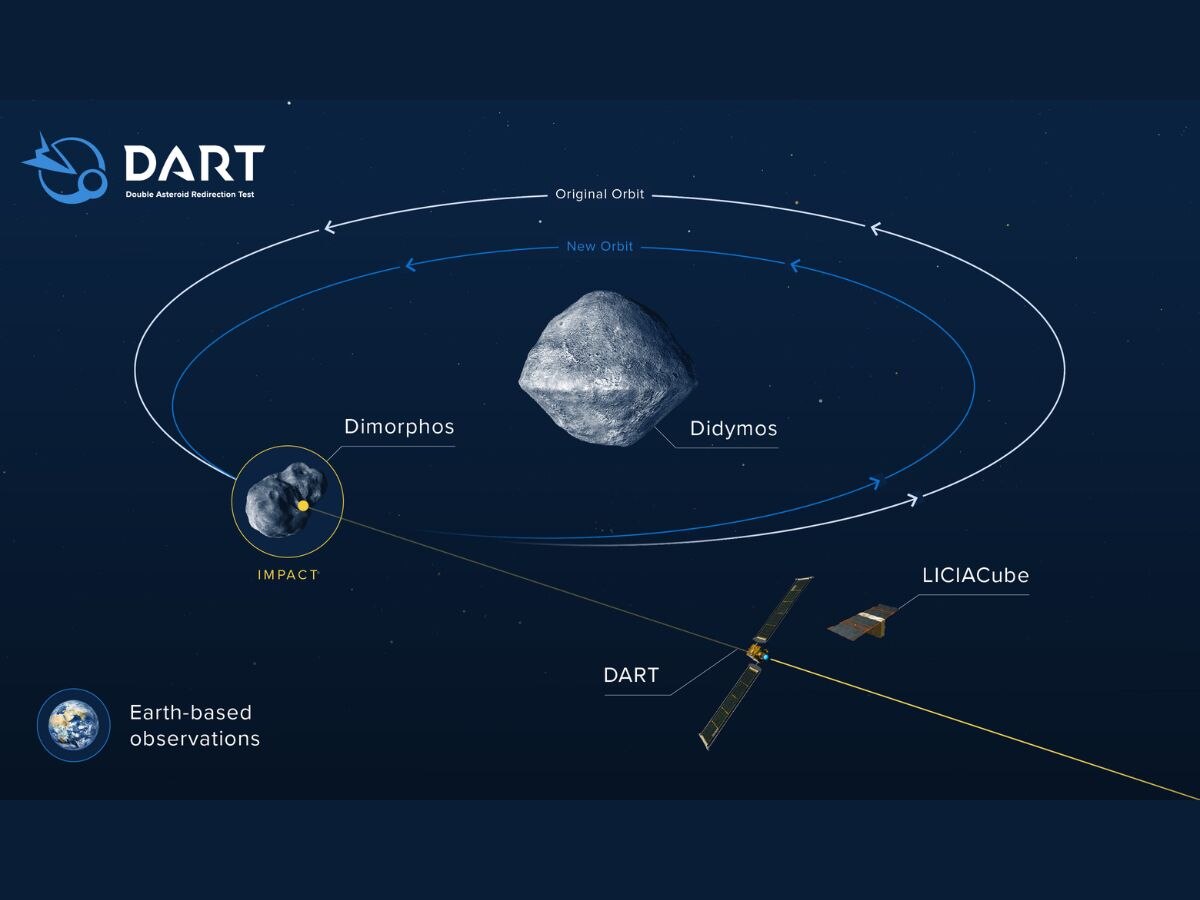 When DART impacts Dimorphos, the spacecraft will change the orbit of the asteroid within the binary system. Then, the results of DART's kinetic impact with Dimorphos will be analysed by the DART Investigation Team. The team will use telescopes on Earth to study how much the spacecraft's impact changed the asteroid's motion in space. 
The databases of astronomers consist of highly detailed computer simulations of kinetic impacts on asteroids. NASA will compare the results of DART's kinetic impact with these simulations, and assess the effectiveness of the mitigation approach. 
If the approach proves to be effective, NASA will apply it in future planetary defence strategies. Scientists will also understand the accuracy of the computer simulations and the precision with which they reflect an asteroid's behaviour.
Why Is Didymos Chosen As DART's Target?
NASA has selected the Didymos asteroid system because it does not pose any threat to Earth, and will serve as the perfect testing ground to see if the intentional crash of a spacecraft into an asteroid is effective in changing its speed and direction. 
If the experiment turns out successful, Earth-threatening asteroids could be deflected in future using the same technique.
DART Mission Objectives
DART is a test of technology, through which NASA intends to assess its ability to achieve a kinetic impact on an asteroid and observe the asteroid's response. The international planetary science community will come together to address the global issue of planetary defence.
DART will demonstrate a kinetic impact with Dimorphos

DART will change the binary orbital period of Dimorphos. The binary orbital period or the revolution period is the time an astronomical object in a binary system takes to complete one orbit around the other object in the system.

Investigation teams will use ground-based telescopes observations to measure the orbital time period of Dimorphos before and after the impact

NASA will measure how the impact affects Dimorphos, and will also analyse how ejecta is released from the asteroid after the impact.
DART was launched on November 24, at 1:20 am EST (November 24, at 10:50 am IST) aboard a SpaceX Falcon 9 rocket from Vandenberg Space Force Base. 
If the mission is successful, it will provide important data to help Earth better prepare for an asteroid that might pose a threat to the planet in the future.
ALSO READ | Jupiter Makes Its Closest Approach To Earth In 59 Years. WATCH Live