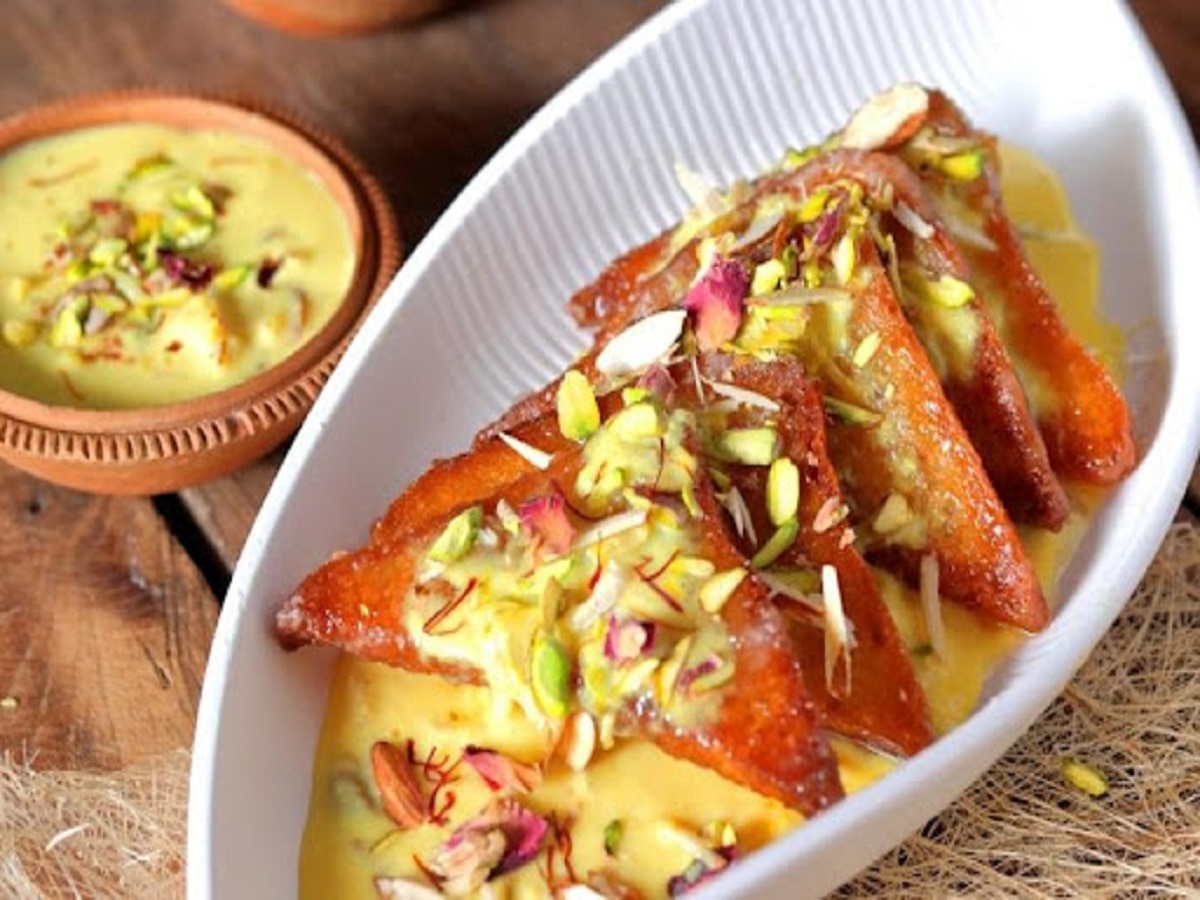 New Delhi: Sweets, as we all know, represent happiness, celebration, good omen, and prosperity, and no festival, ceremony, or occasion is complete without Indian sweets. Every happy occasion is commemorated with the distribution of sweets. Because all of the ingredients used to make sweets are pure, they are considered safe for offering to Gods in temples. As a result, the ritual has been passed down through the ages.
Since the ancient times of considering mithai to be pure and offering it to others before self-consumption, Indian sweets have had a place in everything auspicious. To make your Navratri Puja 2022 celebrations even more auspicious, here are some sweet recipes shared by Chef Kandla of Modi Naturals: 
Shahi Tukda And Rabri
Ingredients
: 
For Rabri
Full cream Milk -3 cups

Condensed milk – 2 tablespoons

Crushed kesar threads

Sugar – 4 table spoons 
 For shahi tukda 
White bread – 6 slices, cut the sides and into traingles 

Full cream milk – 2 cups 

2 pinches powdered green cardamom 

Oleev active oil- for deep frying 
For Garnishing- Dry Fruits 
Almonds- broken 1 table spoonds 

Cashew- broken 1 table spoonds 

Pistachios – broken 1 table spoonds 
For Sugar Syrup 
Water – 1 cup 

Sugar- 3 tablespoons 

Saffron strands- 8-9 strands 
Method:  
For Rabri 
Take the full cream milk in a heavy-bottomed pan and boil it. Then switch to low flame while stirring continuously till it is reduced to about half the quantity then add the milk maid , sugar and the crushed kesar , continue to stir till mixed well for a couple of mixed till it becomes thick and rich in consistency. Switch off the flame, and let it cool down, then add the dry fruits , and put to refrigerate for sometime, the rabri is ready. 
Sugar Syrup 
Heat equal measure of heat water along with sugar , in a saucepan , stirring continuously till sugar completely dissolves , then stirp in the saffron strands and bring to boil , once it thickens, turn off the flame and keep it aside. 
For Shahi Tukda  
Heat Oleev active oil in a deep-bottomed pan and shallow fry the bread , turning frequently until they are brown and crisp . Once the slices are well fried,  soak each in the sugar syrup till well coated and then set aside.  
Now pour the rabri over the shahi tukda and garnish with dry fruits. 
Festive Special Gulab Jamun: 
Ingridients: 
Maida – 1 cup

Khoya/mava – 50 grams

Crushed Paneer -30 grams

Milk powder – ½ Cup

Baking powder- ¼ th tsp

Milk – 6-7 table spoons or as required 

For syrup

Water- 1 cup

Sugar – 2 tablespoons

A big pinch of Cardamom crushed

A big pinch of kesar strands
Method:
Take a big bowl, and add the maida, Khoya, crushed paneer, milk powder and baking powder, then slowly mix while adding the milk gradually, till it forms a film dough, however, if it becomes too dry, add a little milk to keep it smooth and pliable.
Then Set aside the dough for about 15-20 mins.
Now make take out a small amount of dough, and roll them to make small even balls.
Now pour enough Oleev active oil in a heavy bottom kadai to deep fry the jamuns, bring to a boil, and then lower the heat to medium to fry the balls in one or two batches. Initially, they would sink and after a few minutes, they would increase in size and start to float, keep turning them to ensure even consistency while frying till golden brown. Then take out the gulab jamuns from the kadai, and keep them aside to cool. Once all the gulab jamuns are fried, soak in slightly warm sugar syrup for 30-45 mins, and the Gulab Jamuns are ready.
Garnish with kesar and dry fruits
For sugar syrup: On a low flame, place one cup of water on a pan add the sugar, mix well, then add the cardamom and kesar, continue stirring till even consistency, while taking care it should not become too thick.
The syrup is ready.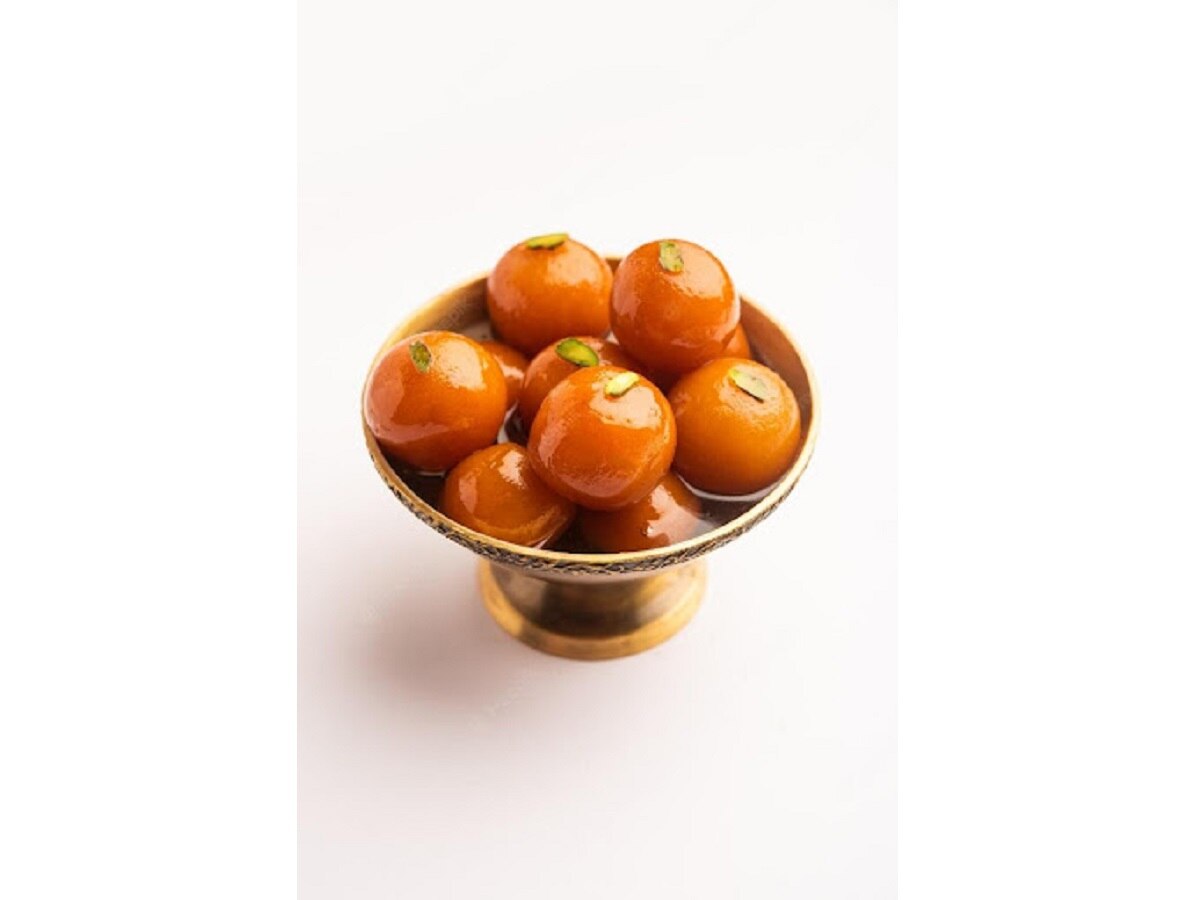 Boondi Cup Cake: 
(Ingredients of the Recipe for 6 to 8 Cupcakes)
3/4 cup Flour

1/2 cup Sugar

1/2 cup Yoghurt / Dahi

1/4 cup Oleev Activ Oil (4 tbsp)

3/4 tsp Baking Powder

1/4 tsp Baking Soda

1/4 tsp Salt

Vanilla essence

A pinch of Saffron
Method:
1) Combine Oil, yoghurt and sugar until the sugar is dissolved. Add Saffron & Vanilla
2) Sift together other dry ingredients.
3) Mix dry ingredients with wet to make a smooth batter.
4) Pour in cupcake mould & bake at 180 degrees C for 20 to 25 minutes
5) Cool the cupcakes & frost it.