New Delhi: With the arrival of September, it's time to kick off the festive season by donning our bright Garba outfits and dancing our hearts out in celebration of Goddess Durga. Garba, a Gujarati folk dance popular during Navaratri (also known as Durga Puja), represents the feminine divine and the circle of life.
Garba is derived from the Sanskrit word "Garbha," which means "womb." Garba is a community dance in which participants spin and whirl in a circle around a clay lantern known as Garbha deep (womb light) or an image of Maa Durga. The center represents life, the divine feminine strength, and the ever-changing universe in which only God (represented as feminine) remains constant.
The community dance brings Hindus from all over the world together to celebrate the auspicious Nine Nights, which represent the nine forms of Shakti. Because everyone wants to welcome the divinity with great pomp and grandeur, the Garba dress receives special attention.
Garba Dress Significance: 
Bright colours are chosen to stand out in the crowd and gladden the divinity. The Garba dress is a three-piece costume consisting of mirrorwork and embroidery. It is a celebration of Indian art and culture.
Traditional choli (blouse), chaniya (skirt), and dupatta are worn by women. For men, the traditional kediyu (kurta with flares), pyjamas, and a turban are worn. Garba is all about glittering colours and loving vibes. Colors are known to have a significant impact on the human mind and psychology; therefore, choosing a colour that is appropriate for a person quadruples the love vibes of colour and festive around us. One way to choose a Garba dress could be based on your zodiac sign.
Let us take a look at the colours for each zodiac sign for this year's Navratri to instill love and prosperity in the air.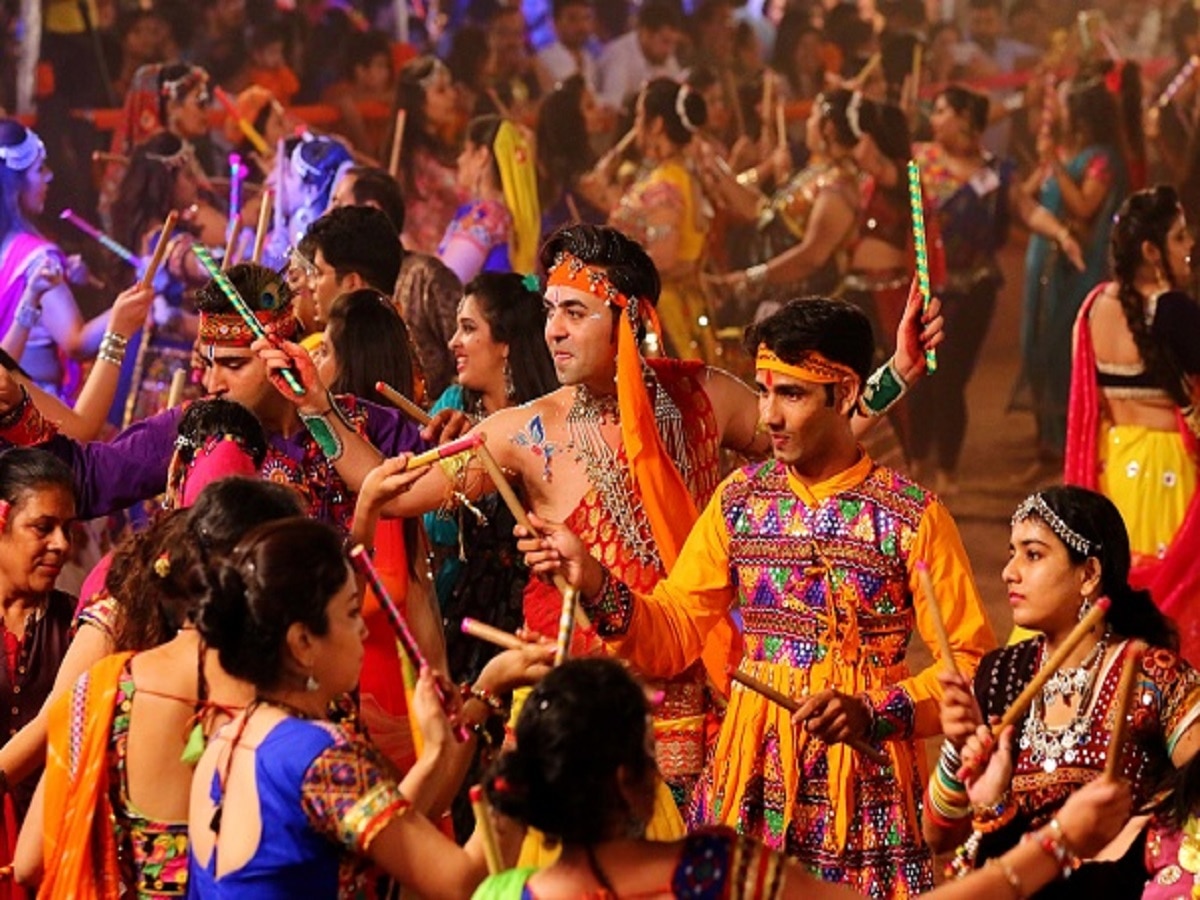 Garba Dresses Styling As Per The Zodiac Signs: 
The colour suggestion for each zodiac sign is based on the sign's nature as well as the transit of planets during Navratri. Sidhharrth S Kumaar, Astro Numerologist and Founder of NumroVani, outlines how various colours and styling options can be chosen for each zodiac sign:
Aries
The first fire sign of the zodiac is charming, motivated, and determined to dance till the end of the night. And their outfits… They never fail to impress. 
This Navaratri, they should choose Garba dresses in the colours of red and bright yellow. The ram is ruled by Mars. Hence, these colours bring good luck and fulfill their aspirations. 
Taurus
You see a person roaming around during Garba, taking care of people and fetching bandages for their swollen feet… Mind you; they're not even the hosts. Yes, they are compassionate Taureans. 
Light colours such as silver, white and pink suit this zodiac sign ruled by the planet Venus. Such colours are sure to carry happiness, prosperity, and good health to their life. 
Gemini
The social butterflies of the zodiac can be seen giggling with one Garba group and enjoying drinks with another. Apart from social interactions, they also pay special attention to deciding on dazzling Garba attire. 
Gemini is ruled by Mercury. Hence, they should choose a green-coloured Garba outfit. It will bring peace to their lives. And yes, all eyes will be on them. 
Cancer
Cancerians are sensitive people. So if someone makes a negative remark about their Garba dress, it will ruin their night. It becomes compulsory to choose an outfit that makes them feel confident. 
As they are ruled by Moon, slipping into a white, silver, or other light-coloured Garba dress is going to bring contentment to their lives. Plus, it also helps them to stand tall. 
Leo
For the irresistibly charming Leo, fashion is a form of self-expression. It conveys where their taste lies. Thus, they make sure to put their best foot forward. 
This fire sign is ruled by the life-giving Sun. For this, doing the Garba in bright-coloured clothes like yellow or orange adds revitalizing energy to their existence. 
Virgo 
You know Virgo as the perfectionist. There's nothing they seek more than order, beauty, and attention to detail. When it comes to Garba outfits, they are more likely to invest in expensive choices so they don't miss the mark. 
With Mercury as their ruling planet, they are advised to choose their apparel in green or white colours. These colours look good on them. Plus, they are incredibly lucky. 
Libra
Libra is ruled by Venus, the planet that governs love, beauty, and wealth. People born under this zodiac sign have excellent taste in art, fashion, and aesthetics. 
Light colours like turquoise and white work to create balance with their vibrant aura. It brings peace, tranquillity, and exuberance to their life. 
Scorpio
One way or another, Scorpio always ends up being the showstopper during the auspicious occasion of Navaratri. Their dressing sense is unique, mysterious, and sensual. 
Ruled simultaneously by two planets – Pluto and Mars, Scorpio is a water sign confused as a fire sign. Saffron or red-coloured Garba dress will add five stars to their sensuality. 
Sagittarius
Do you have a Sagittarian as your Garba partner? If yes, then get ready for a night of adventure and unlimited fun. People born under this fire sign surely know how to have a good time. 
As far as their clothing is concerned, yellow suits best the zodiac governed by Jupiter. It is the omen of positive experiences and good news for these passionate individuals. 
Capricorn 
Well known for their extreme work ethic, Capricorns are the "worker bees" of the zodiac. They are willing to give up a lot for their ambition, even during the festive season, except for making time for prayers. 
If someone is able to convince them to attend a Garba night, they should choose dresses in shades of blue. As the zodiac is ruled by Saturn, the colour blue colour will bring out the best in them. 
Aquarius
You will rarely meet an Aquarian who is not the most well-read and well-informed in the room. Beware, they're not only here to dance. They may find explaining the history of Garba equally enjoyable. 
The ruling planet of this intellectual zodiac sign is Saturn. Dark colours like Blue and Black will draw attention to them. It will also work in favour of taking away their sorrows. 
Pisces: 
Despite being extremely sensitive, Pisceans have the characteristics to mingle with almost anyone. They are immensely empathetic to others' needs. This assures they're not going to drag you to the floor when your heels are hurting.  
The imaginative water sign is doubly ruled by Jupiter & Neptune. Light colours such as saffron and yellow will radiate their sincere positivity. 
This Navratri give your garba dress a personalisation based on your zodiac signs.