On Monday, Indian film actress and cricketer Virat Kohli's wife, Anushka Sharma took to Instagram to slam a leading sportswear brand for using her personal images without permission, but social media users were quick to gauge that it was a marketing gimmick by the actress. Here's everything you'd like to know about the episode.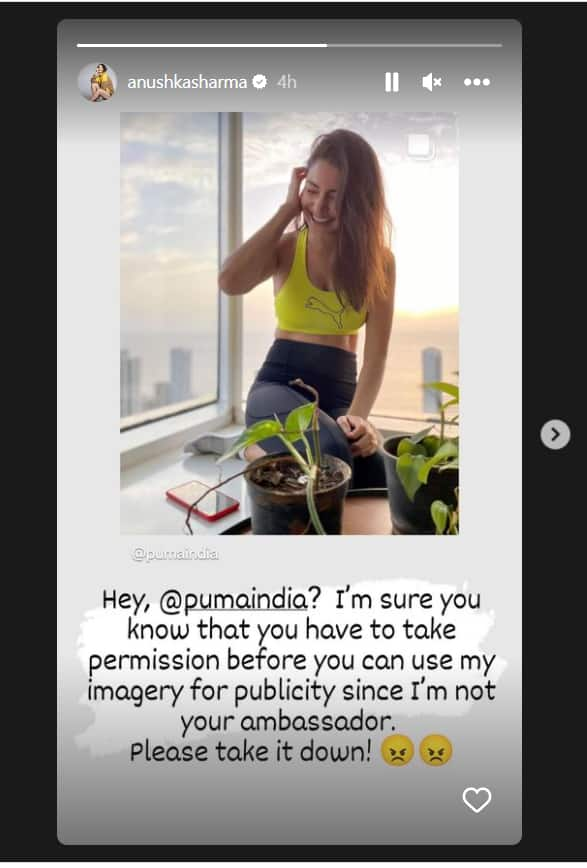 Puma, the brand in question responded to Anushka's Instagram story by sharing a screenshot of what seems like a confidential contract, which reads "Puma x Anushka" and the brand's official Instagram handle wrote, "Hey @anushkasharma, we should've reached out sooner! Should we take things to the next level, then?"
Later, Anushka posted a video of herself speaking about the brand's apparent 'proposal' since she told them to take down her photos as she was not their official brand ambassador. The video has the actress talking during a makeup session, about a 'proposal' from the brand, she captioned the video as, "Considering @pumaindia's proposal… What say?"
Here's what she said in the video, "Wait, will I have to wear sports bra all day? It is like being stuck at the same job as Virat. Ab bolenge 'har jaga logo dikhna chahiye (they will now say the logo should be visible everywhere)'." Adding about the apparent deal with the brand, Anushka made her trademark face and said, "Very self-obsessed. Uhhh, these guys are going to force me to be friends with that creepy cat (seen on the brand's logo) now? Literally found that thing in our bathroom one day. Using my soap. Cats can't even have a bath!"
"Why did not they name it Cheetah? That's the fastest, right?" She further complained, "My clothes are going to have cat hair all day… they own my family now (sic)," she added.
Incidentally, Anushka's husband, Virat Kohli is an ambassador for the brand and also runs a sub-brand in collaboration with it, called One8 and looks like Anushka is joining the family.
Instagram users were quick to understand the marketing game. One user wrote, "Sab promotion strategy tha (it was all a promotional strategy)." Another one read, "Marketing on point."