NEW DELHI: The governing body of St Stephen's College decided on Tuesday to move the Supreme Court to appeal against the Delhi high court's order on the admission process. The university and the college were at loggerheads over conducting interviews during admission.
For the 50% reserved category, the college could conduct an interview with 15% weightage and a CUET score with 85% weightage. Though five members of the governing body — three teacher representatives and two university representatives — dissented against the decision to move the apex court, 12 members agreed to the move.
"It would be discrimination against students as St Stephen's is a constituent college of the university. There cannot be two different processes for admission to the same university. The college was also informed that the university will open its portal from September 26 so due to this confusion, students may not be able to apply to the college. I especially mentioned that in the petition also that the five dissents should be recorded," said Anil Aneja, HOD of the English department and the university representative to the governing body.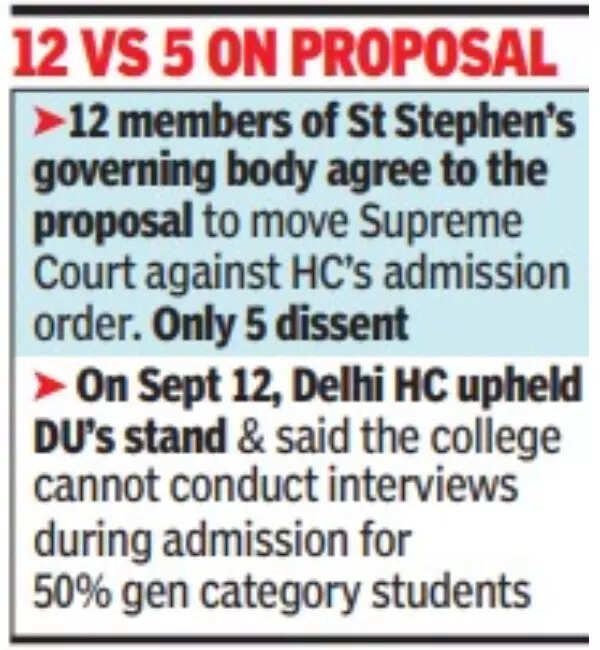 A member of the governing body said, "We also said that by moving the court, we might endanger the admission for the first year as the university portal is already functional. We might be left behind and not be able to get good students as there might be a delay." The second phase of admission registration for the university will begin on September 26. Before the discussion on admission, the university's representative also raised the matter of the reappointment of the principal. The university had written to the college stating that they would be constrained not to recognise the reappointment of John Varghese as principal as rules laid down by the UGC had not been followed.
"We raised the university's point of order and said the agenda can be taken up only when the governing body is properly constituted. I told them there is a member in the governing body whom the university does not recognise. In such a case, he cannot serve notice as a member secretary. They then said as the matter pertains to the supreme council, it will be discussed and a response provided," said Anil Aneja.