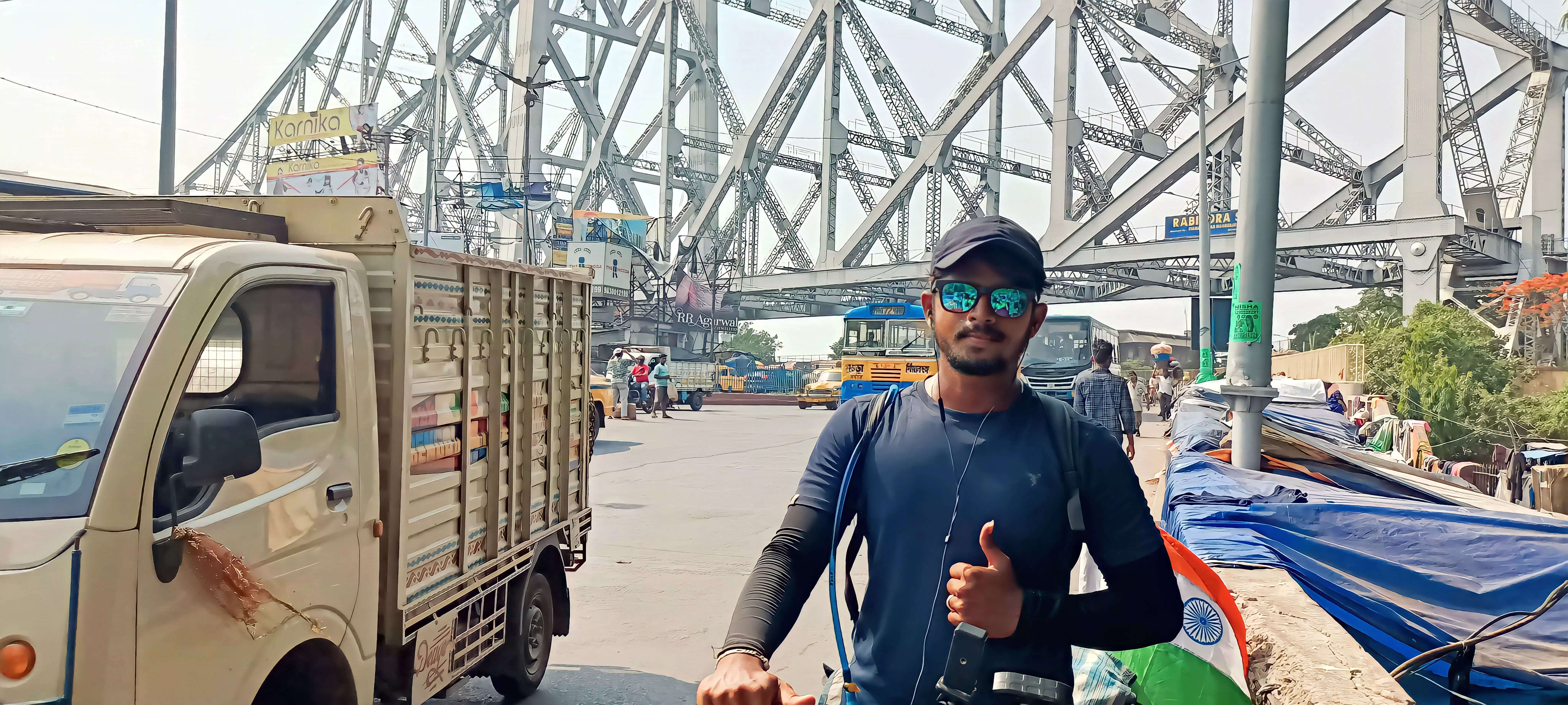 Visakhapatnam: B Sai Sampath, a final year BA (travel and tourism) student of Dr Lankapalli Bullayya College, Visakhapatnam completed his nearly month-long cycle expedition to the borders of Bangladesh, Bhutan, and Nepal. Pedalling the two-wheeler, he covered nearly 2,000 kilometres as part of his campaign against drug abuse with the motto of "say no to drugs". By doing so, Sampath has emerged as the youngest person from Telugu states to reach three borders on bicycle.
Speaking to ToI, Sampath said that it took a lot of effort for him to combat dehydration and heatwave-like conditions throughout the expedition. "Local people in various states accorded their best reception and helped me regain morale during this arduous trip. For instance, when I reached Rambha village in Odisha past midnight, I initially feared that I could not make any connect with the locals due to the language barrier. The villagers, who were participating in a local deity festival, received me well. There was an overwhelming reception with every family of the village asking me to stay and have food in their home," said Sampath.
The BA student said that the experience was similar to the borders of Bangladesh, Bhutan, and Nepal. "There are a huge number of Telugu people in the borders of these countries. The BSF personnel welcomed me with open arms. They provided me with special dishes and shelter. They treated me like a younger brother," said Sampath.
He averaged about 60 kilometres a day till he reached Bhubaneswar. Thereafter, he increased his daily pedalling to 90 kilometres. Sampath collected the currencies of Bangladesh, Bhutan, and Nepal as a souvenir.
"I was grateful to meet people coming from various walks of life, who showered kindness and compassion. The lorry drivers, the BSF personnel, and the friends I have made during the expedition gave me a warm welcome and provided me with food and a place to stay during the nights. Even though it felt arduous at times, I could continue my initial spirit throughout it," said Sampath.
"I hadn't travelled much before I joined this travel and tourism course. But I was inspired by watching travel blogs and wanted to visit different places in India. Combining travelling with awareness campaigns inspired me to bring change in the society. I am grateful for the guidance and encouragement of the college management. I thank college secretary and correspondent Dr G. Madhu Kumar for providing consistent support and guidance throughout his journey," said Sampath.
He plans to continue such adventures in the future with the next one likely being to Sri Lanka.