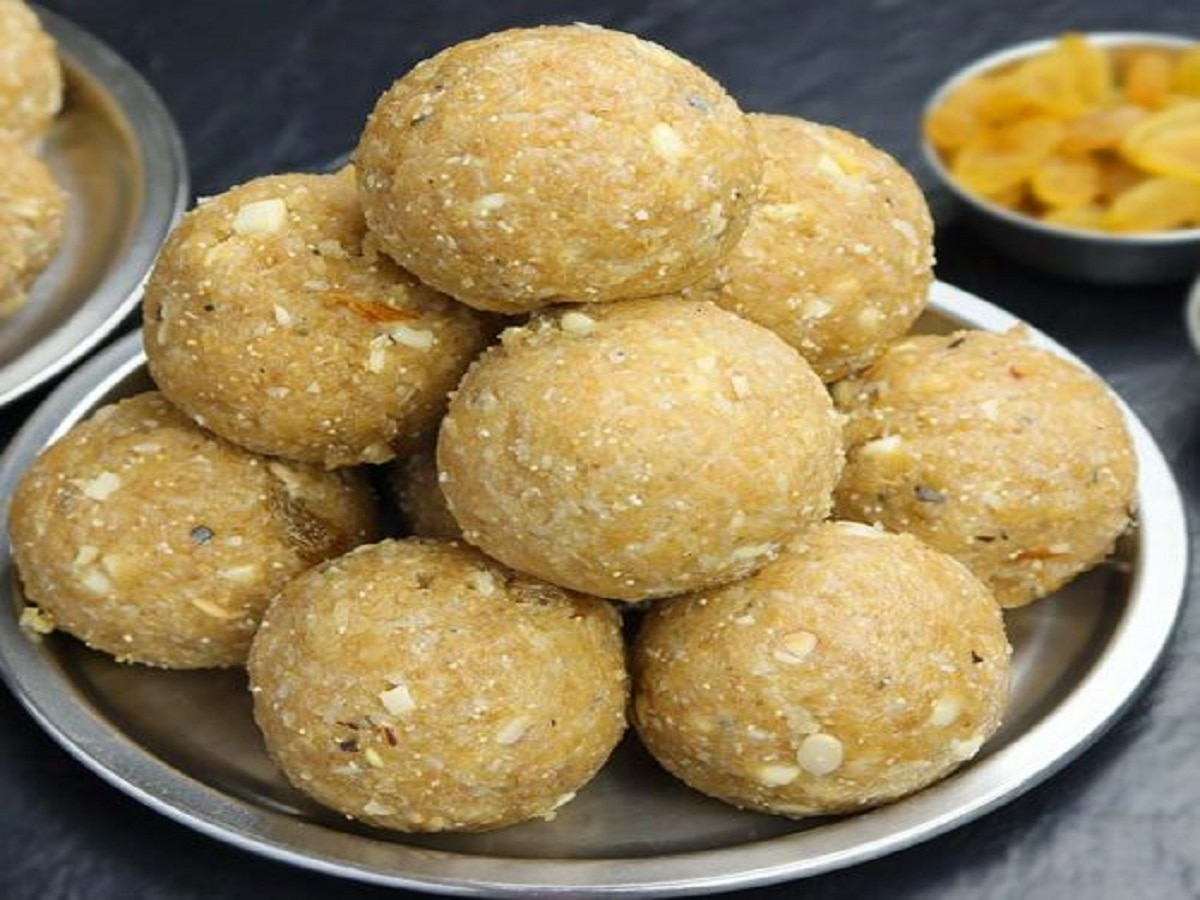 As much as we like indulging in those soul-satiating ladoos throughout the winter, our bodies also need enough strength and vitality during this season to withstand the bone-chilling temperatures and winter tiredness. It's interesting to note that every Indian area has a wintertime dish that combines flavour and nutrition.
If you want handmade Indian ladoos and want some of the most well-known winter laddoo recipes from around India, keep reading as Modi Naturals shares these delicious recipes. We guarantee you'll enjoy these laddoos!
Gond ke Laddoo
Ingredients:
250 grams whole wheat flour 
100 grams gond – fried
200 grams powdered sugar
2 tablespoons almonds – fried
2 tablespoons cashews – fried
2 tablespoons raisins 
1 teaspoon green cardamom powder – optional
175 grams desi ghee + 4 tablespoons at room temperature 
3 tablespoons Oleev kitchen peanut butter
Method:
In a pan, take ghee and melt it on low flame. Add 2 cups whole wheat flour and mix the flour well with ghee. 
Meanwhile, when atta is getting roasted, add fried nuts in a grinder jar or spice-grinder. Also, add the fried gond in a dry grinder jar. Pulse and grind to a semi-fine or coarse powder. Crush gond in the grinder. 
Roast atta till its color changes and you get a nutty aroma. Then stir nonstop when you see the flour change its color.
Stir and roast till the atta becomes golden or brown. Switch off the heat. Keep the kadai down and raisins and cardamom powder. Next add the powdered sugar and peanut butter. Add the crushed gond and nuts mixture.
Begin to mix with a spoon. While mixing, break the sugar lumps if any in the ladoo mixture with a spatula or spoon. Mix very well.
When the laddu mixture is still hot and at moderate temperature, take a heaped size portion of it in a spoon or in your palms. Shape it in a round laddoo. 
Make medium-sized ladoos from this whole mixture. Store them in an airtight steel container (steel dabba). 
They stay good for a couple of months.  Serve Gond ke Laddu just by itself or with some hot or warm milk.
Methi Laddoo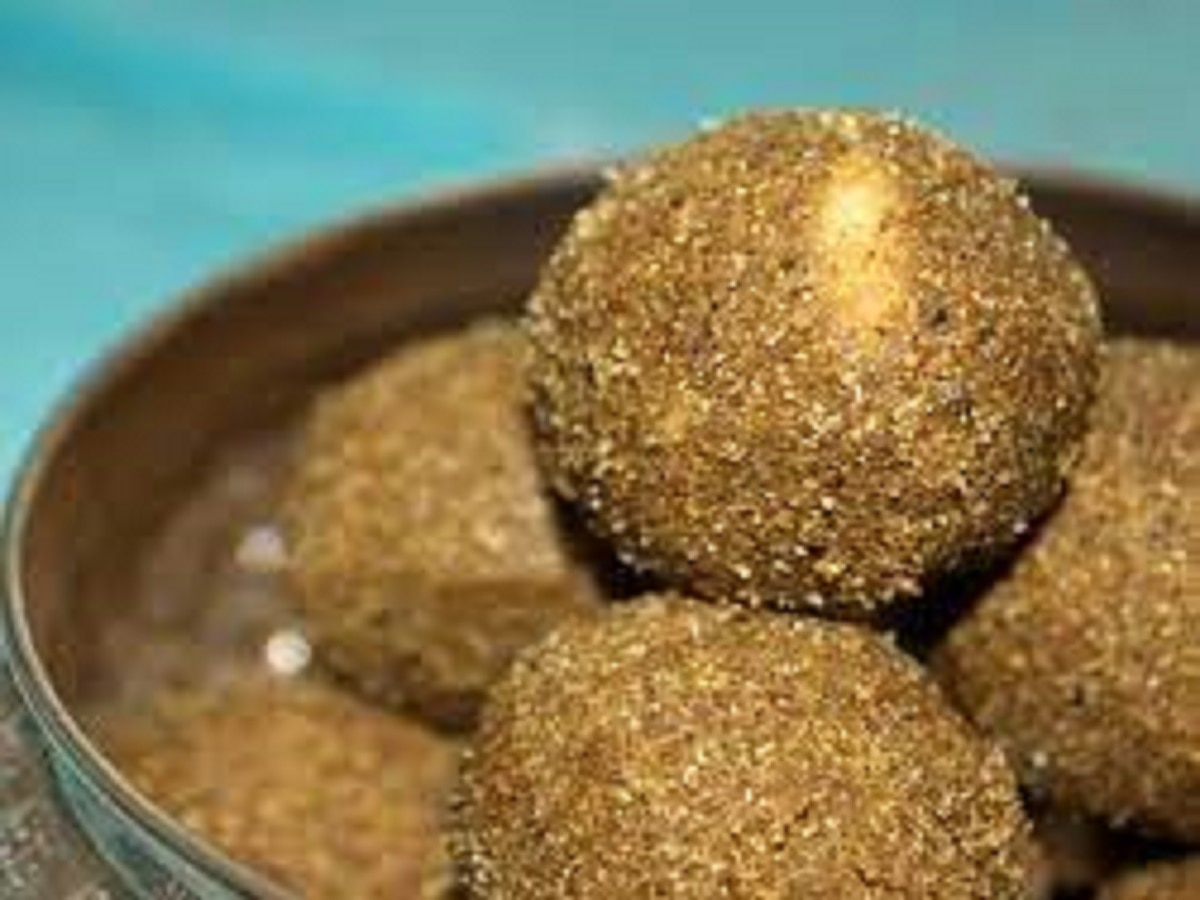 Ingredients:
Methi/ Fenugreek Seeds-50gm
Milk-1cup
Wheat Flour-150gm
Ghee-3/4cup
Oleev Kitchen Peanut Butter – 2 tbsp
Almonds-15
Cashew Nuts-20
Black Pepper-5
Cumin Powder-1tsp
Dry Ginger Powder-1tsp
Powdered Cinnamon-1tsp
Cardamom Powder-1tsp
Jaggery-150gm
Powdered Sugar-1/2cup
Method:
Grind methi seeds to a fine powder. Add milk to the powdered methi and mix well.
Let it soak for 5-8hours. The methi will soak up all the milk and become thick dough.
In the pan add the soaked methi powder and fry until it becomes crumbly. Transfer to a bowl.
Add 1/4 cup ghee to a pan and add chopped nuts. When golden, add the wheat flour and roast until aromatic. Mix the spice powders and crushed pepper and add them to the flour.
Roast it until the flour turns golden brown. Transfer it to the bowl.
Heat the remaining ghee and add the jaggery. Add 4-5tbs of water and heat the mixture on low flame until jaggery melts.
Bring it to a boil. Pour the syrup through a sieve into the bowl. Mix well. Add powdered sugar and peanut butter to the mixture and mix well using a ladle.
Allow the mixture to become warm. Take small portions of the mixture and shape it into a round laddu.
Arrange the laddus on a plate and allow it to air dry for 5-6hours. Store the laddus in an airtight jar.
Dry Fruit Laddoo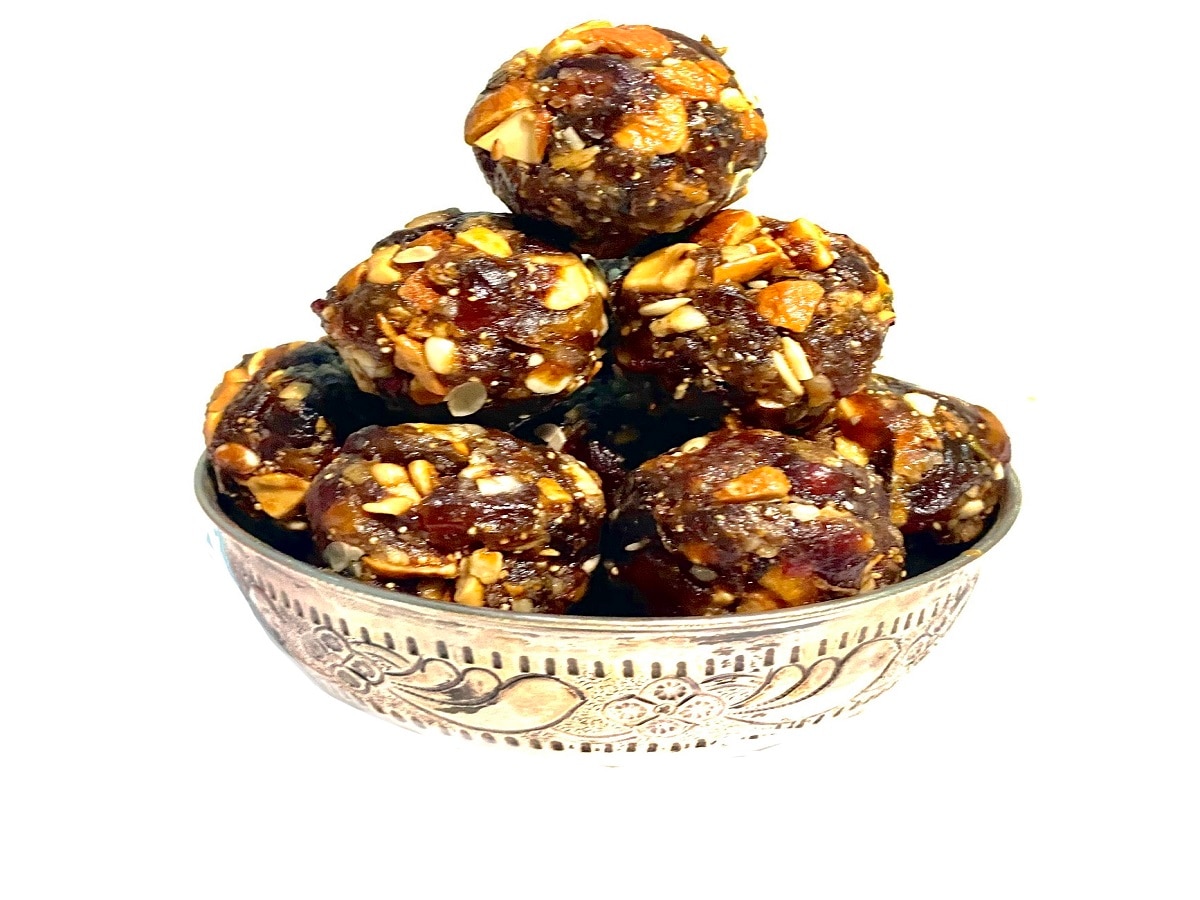 Ingredients:
Oleev Kitchen Peanut Butter – 1/4 Cup
Jaggery – 260 gms
Sesame Seeds – 1/4 Cup 
Poppy Seeds – 1/4 Cup 
Dry Coconut – 1/2 Cup, grated 
Fox Nuts – 1 Cup 
Almonds – 1/4 Cup 
Dry Ginger Powder – 1 tsp
White Pepper – 1 tsp, coarsely ground
Nutmeg – 1 tsp, grated
Cardamom – 1 tsp, coarsely ground
Method:
Dry roast 1/2 cup of sesame seeds, 1/2 cup of poppy seeds, 1/2 cup of grated dry coconut, 1 cup of fox nuts, 1/4 cup of almonds, 1/4 cup of peanuts separately till puffs up, change color slightly and become aromatic.
Grind all the roasted dry fruits coarsely. Start with the one roasted first, coarsely grind sesame and watermelon seeds together. Grind narial & poppy seeds together, fox nuts (Makhana) separately, and almonds & peanuts together. Mix ground dry fruits together in a bowl.
Cut 260 grams of jaggery into pieces. Add the jaggery pieces and 3 tbsp of water to the Kadai and melt jaggery over medium heat. Stir the jaggery occasionally and break the jaggery chunks with a spatula.
Once the jaggery melts and you can see foam in the syrup, turn the flame low and add spices. Add 1 tsp of sonth powder (Dry Ginger powder), 1 tsp of coarsely crushed white pepper, 1 tsp of grated nutmeg, and 1 tsp of coarsely crushed cardamom, and mix everything well.
Mix ground dry fruits in the jaggery syrup and turn off the flame. Take the mixture out in a bowl and add peanut butter and allow it to cool down. Bind the laddus when the mixture is warm enough to be touched with bare hands.
Til Laddoo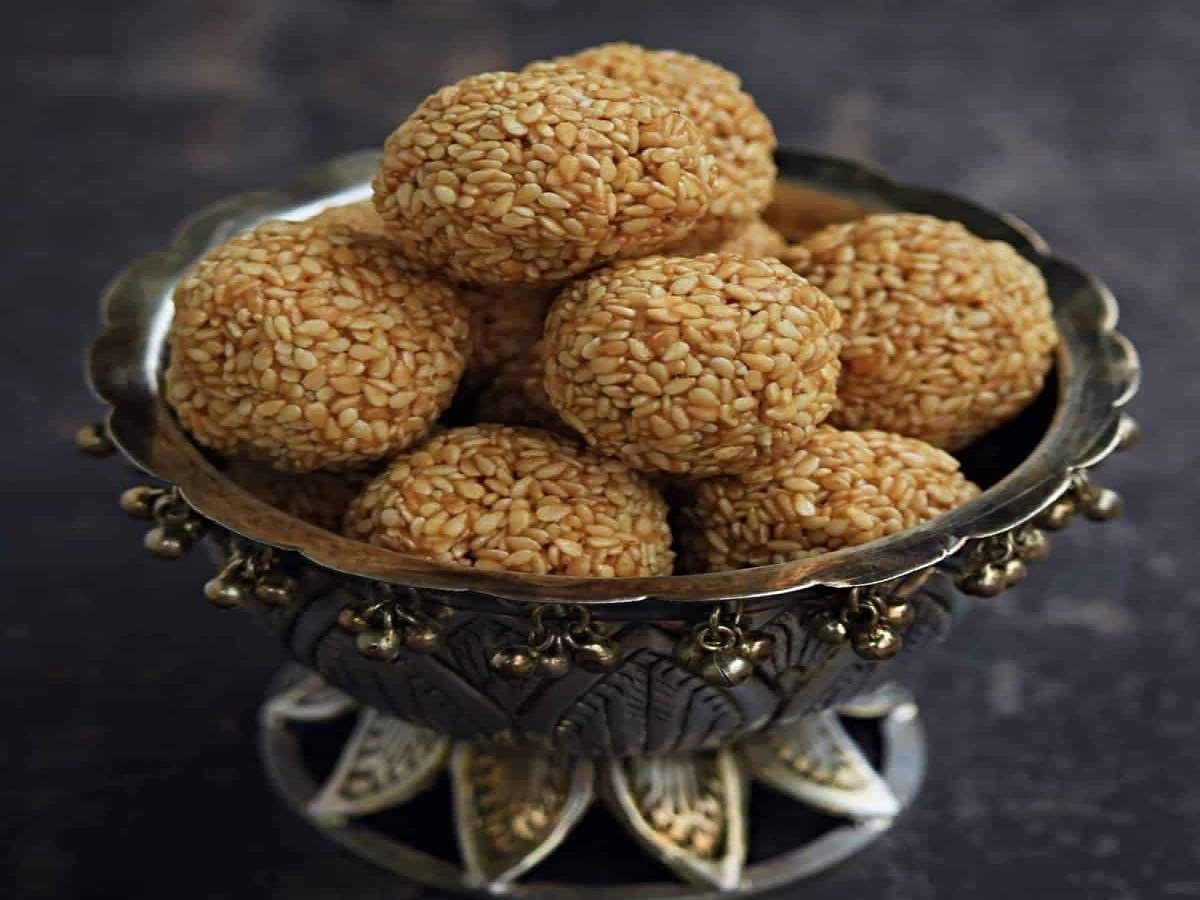 Ingredients:
1  – Grated coconut
150g – Grated jaggery/organic jaggery powder
20g – Sesame Seeds
1tsp – Cow ghee
Oleev Kitchen Peanut Butter 
Method:
Heat the cooking vessel, add grated coconut and let it dry roast for five minutes. Remove.
In the same pan, add one teaspoon of cow ghee and grated jaggery each. Cook for 15 to 20 minutes on medium flame.
Add grated jaggery and cook until it turns golden brown, and the moisture has completely evaporated. The mixture should be thick. Now add sesame seeds and peanut butter to the mixture.
Cool the coconut jaggery mixture. Apply some ghee to your palms, take some coconut jaggery mixture and prepare small balls.
Protein Laddoos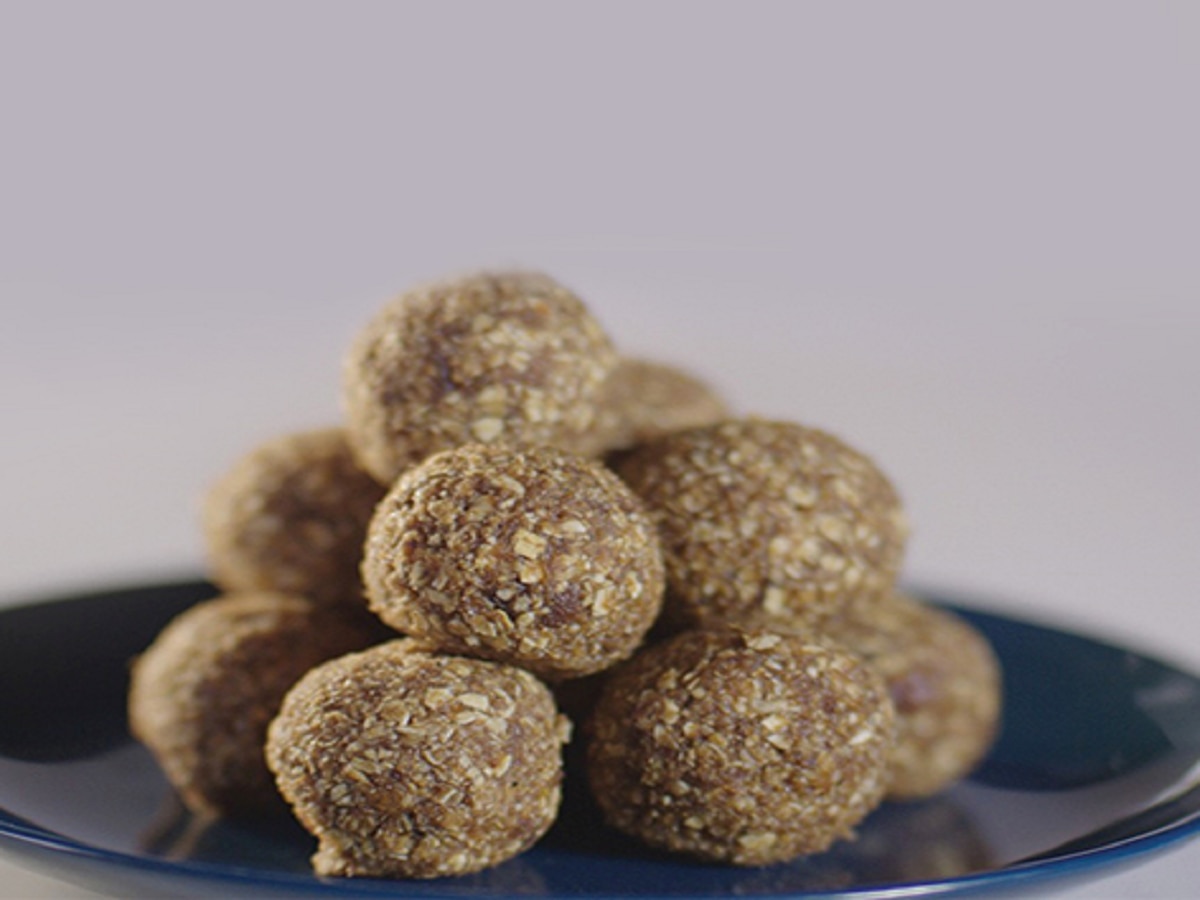 Ingredients:
2 cups dry roasted Oats
1 cup dry roasted mixed seeds and chopped dry fruits
½ cup dried cranberries
Ground dates paste 
½ cup Oleev Kitchen Peanut Butter
Salt
Cardamom Powder 
¼ cup honey 
Method:
In a bowl mix the oats, dry fruits, mixed seeds, and cranberries. 
In a pan add the dates paste and peanut butter and mix them for a few seconds. Mix well.
Add this mixture to the dry mixture bowl along with a pinch of salt, some cardamom powder, and honey. Mix well. 
Make them into the shape of laddoos. Refrigerate them and enjoy them with a glass of milk.